Documentation
:
Kaltura/General Overview Quicksheet
Kaltura in Connect is a video platform accessible to all students, faculty, teaching assistants, and administrators. Users can integrate lecture capture and video materials, submit video assignments, and share video content. Features include the ability to upload, publish, search, and create clips from existing video content, reuse videos across various courses, and share video directly in Connect. This video platform can enrich course material and lead to improved student engagement online.
Download the Kaltura Overview Quicksheet
This document will show you:
Video
Best Practice
Kaltura Galleries
General Overview of Features
Related Links
Video
Effective Practices
All media files must comply with Canadian Copyright Laws. For questions about copyright please refer to copyright.ubc.ca.
Assign video categories and add metadata to easily locate files later.
Create a standard tag for your course and notify all course members about it.
Keep in mind that adding a video to the Faculty Repository means that all staff on UBC are accessible to viewing it.
Regarding ownership and deleting media please refer to Manage and Share Content (How To).
It is recommended to create a Tool Link for the Course Gallery in the course menu to enable easy searching and viewing of all course media.
(Instructor Only) To transfer ownership to another instructor please contact the UBC IT Help Desk.
Kaltura Galleries
The various galleries are libraries for media files viewable and accessible to certain audiences.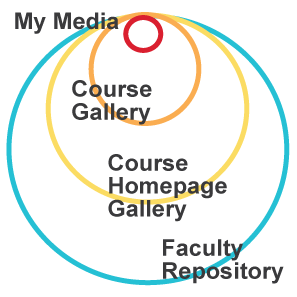 Name
What
Media
Audience
My Media
Every user has a private media gallery where content can be uploaded, managed, clipped, and shared (based on their permissions).
All media uploaded by a user
Only user
Course Gallery
Course Gallery enables course members to search and view media assigned to a course.
All media contributed to a specific course
Course members
Course Homepage Gallery
All "featured" media from the Course Gallery.

TAs, instructors (hidden and published videos)
Students (published videos only)

Faculty Repository
Faculty can easily search and share content such as library/curriculum files.
All media contributed to the repository by faculty members
Faculty member from any UBC Faculty
Features
Upload Video – upload videos to Connect and add them to a gallery.
Record and upload video from webcam - record from a webcam and add the video to a gallery to share with others.
"My Media'" Gallery– every user has a private media destination where content can be uploaded, managed, clipped, assigned and shared (based on user permissions).
"Course Gallery" - enables course members to search and view rich media assigned to a course.
Share Videos - instructors can embed their videos elsewhere to an external site, blog or any page that accepts HTML (ie: a website, a blog, etc.).
Faculty Repository - faculty can easily share content with each other by making their media public in the searchable Faculty Repository. The repository also allows faculty to use library/curriculum media content for their courses.
Integrate Videos – add video to assignments, tests, quizzes, forums, blogs, and more, directly from the Kaltura Mashups feature within the content editor. You can select from existing content in My Media and Faculty Repository, upload videos or record them on the fly. The same flow exists wherever you have access to the text editor. Alternatively, users can easily ingest and display video as a standalone course item through Tools.
Optimal Playback Experience: Mobile Playback – including iPhones, iPads, Android and Blackberry devices, with automatic device detection and Flash-HTML5 fallback.
Accessibility - Supports playback with ADA/508 compliant video players.
Clipping Tool - students and faculty can create video clips from existing content. Remove redundant sections or create highlights from the longer video (requires owner's permission).
Search Capabilities - perform search and filtering on video metadata and save searches for future use.
Related Links