Documentation:Connect/Create a Journal (How To)
Journals provide a personal writing space for students for self reflection or private communication with the instructor.
This document will show you how to:
Create a journal
Set journal availability
Define settings
Create a journal link in a Content Area
Video
Watch the video below on how to create a journal:
Create a journal
To begin, select a Content Area to add a journal to
Go to Tools at the top of the page
Click Journals

From the 1. Create Link: Journal section, click Create New Journal
In the 1. Journal Information section, enter a name for the journal
In the text editor, enter a brief description of the subject or some instructions for the journal
Set journal availability
In the 2. Journal Availability section, select (Yes).
(Optional) In the 3. Journal Date and Time Restrictions section, set date and time restrictions for the journal availability
Define Settings
In the 4. Journal Settings section, select whether or not journal entries index will be displayed by week or month
Set the user settings to determine if students can edit or delete comments and journal entries.

Note: By default, journals are only visible to the instructor and the student, if you would like journals to be visible to the entire class, select Permit Course Users to View Journal

If the journal entries will be graded, select Grade and enter the points possible for the entries in the 5. Grade Settings section
Click Submit at the top or bottom of the page
The new journal appears in the list of existing journals under Link to a Journal.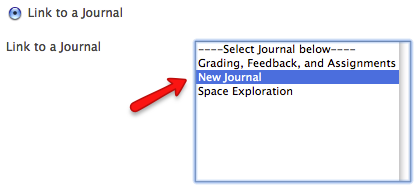 Create a journal link in a Content Area
Select the journal title you want to link
Click Next at the top or bottom of the page
The link name is automatically filled with the journal title, edit if desired.
Click Submit
The journal link displays in the content area.
Related Resources