Documentation
:
2010 Delicious Workshop
It's Delicious! Social Bookmarking for Grant Facilitators
Tuesday, May 11th, 2010 at 2:00PM - 4:00PM at Koerner Library, rm. 217
Instructors: Susan Atkey and Sally Taylor
Workshop description: Delicious is a social bookmarking tool that enables you to organize and access your favourite web sites from anywhere, irrespective of the computer or browser you're using. The social aspect of social bookmarking means you can share your bookmarks and find web sites added by others. In this workshop, you'll create a delicious account and bookmark your favourite web sites using tags to organize them. You'll learn how to share your bookmarks through web links or RSS feeds, how to recommend sites to people in your network, and how to subscribe to bookmarks tagged by others. For those on the move, delicious is the way to go!
Social bookmarking is a method for Internet users to share, organize, search, and manage bookmarks of web resources. -- definition from Wikipedia
The main advantages are that you can access your bookmarks from anywhere and that you can easily share bookmarks with others.
There are many social bookmarking tools. Some examples are delicious, diigo, and citeulike.
For more information, read 7 things you should know about social bookmarking and watch the video Social Bookmarking in Plain English.
Creating a delicious account
Set up your account at: delicious
Delicious is part of Yahoo, so you can use an existing Yahoo ID and password if you have one.
Click on Settings to edit account info, edit your public profile, change your password or delete the account.

HANDS-ON: Create your account.
Bookmarking and tagging web sites
Add sites manually
Click Save a new bookmark.
Enter the URL.
Add a note or tags.
Mark as private (optional).
Click Save.


HANDS-ON: Add a website.
Install the delicious buttons in your browser (e.g. Firefox, Internet Explorer).
Click the Tag button in your browser.
Add a note or tags.
Mark as private (optional).
Click Save.

HANDS-ON: Install the delicious buttons and add a website.
Tags and Tag Bundles
Tags are single words used to describe a web site. For example, you might use the tag running to describe the Sun Run web site. Tags cannot have spaces, so if you wanted to tag the site with Sun Run, you would need to tag it with SunRun or Sun-Run. A web site can have multiple tags, so you may end up tagging the site with: running SunRun vancouver race. Remember to tag a site using words that will mean something to you in the future!
Tag Bundles are a way to organize a group of tags. For example, you might pull together the tags running, swimming and yoga with the Tag Bundle activities.
Use Settings to manage Tag Bundles, and to rename and delete Tags.

HANDS-ON: Add tags to an existing bookmark.
Accessing your bookmarks

Go to your delicious site to view the Tags as a list or a cloud on the right side of the screen.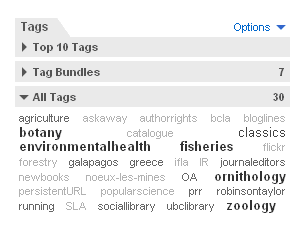 Alternatively, you can click on the Bookmarks button in your browser, and the tags and sites will appear in a sidebar on the left side of your screen.
Recommending bookmarks

Creating Your Social Network
Delicious allows you to save people to a network so you can see your favorite users' latest bookmarks in one place. You can save anyone to your network, whether you know them or not. If you add people to your Network, it's even easier to send them bookmarks.
To add a person to your network:
Visit their bookmarks page
Click Add to my Network from the top right of that page
You can also add a user by selecting Add a user to Network from the top right of your network page and typing in the user's name.

HANDS-ON: Add a colleague in the room to your network.
---

Delicious allows you to share and recommend bookmarks in three ways: 1) via the delicious inbox, 2) via email, or 3) via Twitter.
Recommending Bookmarks to another delicious user
There are two ways to send a bookmark to another user.
Simply add the user name in the "for" field when you add a bookmark. (Already saved the link? Click the "edit" link and then add the user name in the "for" field.)
If you have a network of users, it's even easier to send a link to them. When you save the bookmark, the tags section will contain a list of delicious users in your network. Click the name of the person you want to send a link to, and the username will be sent to the "for" field.
When you send a link to a delicious inbox, the recipient will have a permanent copy of the link that's easy to add to their own bookmarks. The little mail icon in the top right corner will let you know when you have a new bookmark.
Recommending Bookmarks to someone via email
To send a link to someone via email, simply enter their email address in the "for" field. After you've sent someone a link, their email will appear in the "sent" section of the edit bookmark page under "Previously used email addresses". You can then click their email to send them another link.

HANDS-ON: Send a link to another user's inbox and/or via email.
Recommending Bookmarks via Twitter
Delicious allows you to integrate your delicious account with your Twitter account so you your new links are automatically added to your Twitter feed. To do so, you'll need to authenticate your Twitter account. When you add a link, look for the text Share your bookmarks directly on Twitter in the send section on the edit bookmark page.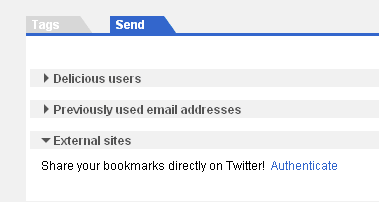 Subscribing to bookmarks tagged by others
Subscribing to a tag allows you to be notified when others have saved a bookmark with that tag. After you add a tag to your subscriptions, any new bookmarks saved with that tag will be delivered to your subscriptions page. Think of it as a "tag aggregator".
For instance, if you're an Vancouver Canucks fan, you can subscribe to bookmarks tagged with 'canucks' to see what others have bookmarked on your favorite team.
Here's how to do it:
Visit your Subscriptions page (look for the link in the top left-hand corner of the page)
Click the Add a subscription icon
Enter the tag that you'd like to follow in the small pop-up window
Click the add button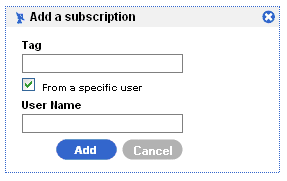 You can narrow your subscription to tags from specific users by entering their usernames when creating your subscriptions.

HANDS-ON: Subscribe to a tag.
RSS
Sharing links via RSS
Delicious allows you to share and subscribe to groups of links via RSS. Look for the orange RSS icon at the bottom of each page.

Publishing to your website using linkrolls and tagrolls
Delicious makes it easy to display your links and tags (or a combination of both) on other websites using linkrolls and tagrolls.
To get the code to add a linkroll or tagroll, go to the tools tab in the blue bar at the bottom of your delicious page:
In the section that says Add your bookmarks and tags to your website or blog, select linkrolls or tagrolls.
You will see a number of display options that you can tweak to change how your link or tag results will display on your webpage: