Course:HIST104/FIFA

An annual series of videogames based on Association Football, currently found on the XBOX, Playstation, Wii, WiiU, Nintendo portable, and iOS systems. It is developed by EA Sports and published by Electronic Arts and is one of the largest selling video game series of all time, with over 100 million copies having been sold since its inception in 1993[1].
History of Franchise
The FIFA franchise began in 1993 when EA released FIFA International Soccer on the
PC
,
GENESIS
,
Master System
,
Mega-CD
,
Game Gear
,
SNES
,
DOS
,
Amiga
,
3DO
,
Game Boy
, and
PlayStation 2
systems
[2]
. While there had been other soccer games created in the past, with the release of the 1996 edition, EA added real players to the game and also used real 3D graphics with a program called Virtual Stadium
[3]
.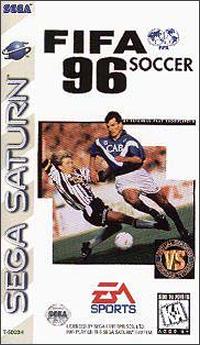 From there the franchise went on to release 20 more titles in the series on a multitude of platforms, with FIFA 2013 being the most recent.
This annual release schedule has been criticized however, with some onlookers claiming that the company is not doing enough to innovate, and is merely releasing small variations of the same game year after year. It has also faced accusations of plagiarism and of "acting unfairly in terms of licencing."[4]
With the international popularity of the sport of football, the series would has gone on to sell over 100 million copies[5]., with the newest version FIFA 13 selling 4.5 million copies in just 5 days[6], which speaks to its worldwide appeal.
FIFA in Culture
When examining the three players on the FIFA 2013 cover, it paints a clear picture as to how the sport of soccer has broken down cultural barriers over time. Soccer has been played around the world for longer than most people would believe. The game can be played with just a ball and that is what has made it so universal in participation.
Technology such as television and computers has allowed this sport to become displayed to people around the world and since so many countries play the sport religiously, there are players from just about everywhere, that speak nearly every language, and who hold different beliefs. This sport is able to bring all these different types of people together who may not have ever come into contact if not for the love of this sport that they share.
There are three players on the cover of FIFA 2013, one is from Argentina and the other two are from England. Lionel Messi is depicted in the center and he is from Argentina, however he plays for a team in Spain. He is a hero in Spain to many people, and many young soccer fans look up to him. It is the sport of soccer that has allowed people to become heroes in countries that they are not even from. This is truly an example of when cultures come into contact where both parties are received positively. The sport of soccer being such a universal activity has been able to bring countries together. An American soccer fan for example could relate to an Argentinean through talking about Messi and how great of a player he is. The love of the game is a shared passion and it can be used as a common ground for people who may differ in many ways from one another. Thinking about cultures that have come into contact with one another in this course for example, much of the time when the two saw only differences in one another the contact was not positive for both parties. Soccer can act as a bridge between two parties and has been doing so ever since it has been become such a world wide phenomenon.
Connectivity of FIFA 13 and Sport in General
Soccer or more commonly known as football, is the most widely played sport in the world. Whether it's the FIFA World Cup or the Premiere league, football matches receive incredible viewing numbers. Generally speaking the World Cup is the most strongly covered television event and in turn is the most watched sporting event. In 2006, the FIFA World Cup was covered by three hundred and seventy six channels worldwide. Furthermore, it was aired across a total of forty-three thousand six hundred broadcasts over two hundred and fourteen countries, spanning seventy-three thousand and seventy-two hours of total coverage time.[7] The 2006 World Cup also had 24.2 billion in home viewers and another 2.1 billion out of home viewers.[8] As the most viewed sport in the world, football has a certain level of power behind it. In past years the power of sport to connect conflicting countries has been demonstrated. Whether it's the Olympics or the FIFA World Cup, there is always a political situation surrounding each of these events. In many cases the World Cup has served as the connecting fibers bringing countries together to peacefully compete, putting aside their political differences. The 1998 World Cup saw a much-anticipated match between the U.S.A. and Iran. Tensions were very high at this point between the two countries following the Iranian revolution. However, leading into the match, each team presented the other with a gift and took a ceremonial picture before the game. [9] This demonstrated that the two countries would leave their differences at the door before the match. Football is popular among lower socio-economic standings, unlike sports such as swimming, hockey, equestrian, or sailing. For children sport often provides an outlet, and in many impoverished countries that sport is football. On the other hand, in the developed world, video games are becoming as popular an outlet as sport. In the favelas of Brazil or in gated California communities the football is connecting people. The FIFA 13 video game connects millions of middle class people of all ages online, or in person, in the developed world.
Year-By-Year improvements of FIFA
There are three pillars of FIFA which the game developers focus on improving each year: refining the features from previous years, removing glitches, and adding requests from fans and creating new features.

FIFA 95: Introduction of club teams from various nations.
FIFA 96: Introduction of real time 3D graphics on a variety of consoles.
FIFA 97: New 6 aside soccer mode and increasing amount of playable leagues.
FIFA 98: New graphics engine, and the inclusion of a player customization option.
FIFA 99: Graphical improvements as well as increased fluidity and the responsiveness of players.
FIFA 2000: New leagues added but the graphics engine declined in quality.
FIFA 2001: New graphics engine, which allows for detailed kits and players began to get their own unique face structures and features.
FIFA 2002: The game became increasingly challenging as a power bar for passing was introduced, which is adjustable to gamer's preferences.
FIFA 2003: Introduction of new graphics, which brought the stadiums, players and kits to life.
FIFA 2004: New control system allowing the gamer to take control of two players at once, and new leagues introduced.
FIFA 05: Create a player mode was introduced and the new first touch system enhanced gameplay.
FIFA 06: The games code was basically re-written, leading to increased control over the players.
FIFA 07: New stadiums were available and the ability to create your own custom team.
FIFA 08: New game modes where gamer can control a single player for entire game named "BE A PRO" and larger club selection.
FIFA 09: "BE A PRO" was incorporated into online gameplay and players real life form would be translated into the game through internet connection.
FIFA 10: Player experience system changed, with the introduction of new teams, stadiums and a new assistant manager who would control your team when you are absent.
FIFA 11: Improved general gameplay as well as increased graphic capabilities.
FIFA 12: Referred to as "revolutionary" in the FIFA series because of the drastic improvements of all aspects of the game.
FIFA 13: EA Sports football club, allows players to take on new challenges, level up and connect with friends.
As the game has developed over the years, it has introduced players and clubs from all over the world in order to please its global fan base.
Impact in North America
This universal popularity of soccer has however been lacking in North America until very recently. However, with recent changes in availability of the game of soccer in sports media has contributed to a surge in popularity in North America. The soccer league system in North America is not nearly as widespread, and many soccer fans had little access to view professional matches on television. The popularity of the FIFA 2013 video game has contributed significantly in the rising interest of soccer in Canada and the United States. In the game's first 24 hours of release in the United States 353 000 copies were sold, a 42% increase from the previous year's release.[1]Due to increased interest, the American mass media outlet NBC Universal recently secured a 3-year $250 million deal to broadcast matches from the English Premier League, one of the world's most popular soccer leagues. This marks the first time a non-U.S. based team will be regularly broadcast televised in America [2] Not only have North Americans become interested in the sport itself, but also now have increased opportunities to participate in Europe's rich soccer culture. Furthermore, FIFA 2013 is contributing to the changing North American sports culture. NFL attendees have declined in recent years and even TSN's rating of the Italy vs England Euro 2012 elimination game drew significantly more viewers in Canada than the round 2 coverage of the Stanley Cup finals occurring on the same night. Although no Canadian teams were playing that night, ratings of the Euro 2012 matches broke records in Canada.[3] [4] With these advantages, soccer is well on its way cement its status a a truly universal phenomenon.
References