Below are frequently asked questions and answers relating to the MTRL program.
General
What is Materials Engineering?
The scope of materials engineering encompasses everything to do with materials and their use. Materials Engineers are uniquely qualified to understand the full life-cycle of materials from how they are made to how they are selected and used to how they are dealt with at their end-of-life. To do this a materials engineer must understand,
The production of engineering materials from raw inputs
Designing new materials
Making engineered materials
Manufacturing materials into products
Evaluating material performance or failure potential
Proper disposal and recycling of materials
Societal and economic impacts arising from materials use/fabrication.
Materials engineers design, produce and evaluate materials. To do this, they need to understand the properties of materials – chemical, physical and mechanical – and the scientific principles that underlie the relationship between a material's structure or composition and how it performs.
One of only four undergraduate programs in Canada, Materials Engineering at UBC is among the top-rated programs in North America and enjoys a strong international reputation.
Materials engineering at UBC dates back to 1915 and today this research-rich department is a centre of excellence in a number of materials research fields. Department faculty are international authorities in hydrometallurgy, manufacturing, aerospace materials, sustainable materials, nanomaterials, biomaterials and ceramics, working closely with industry. Research funding is the highest per faculty member of any UBC engineering department. Recent awards have recognized individual contributions to industry, research and education.
What is Materials Engineering according to Materials Engineering students? Watch the video below to find out...
What are examples of the typical types of work or tasks that someone in Materials Engineering would do?
Both exciting new opportunities and well-established industries rely on materials and the skills of materials engineers. Materials engineers have a unique contribution to make across all engineering fields. They bring their expertise to almost every industry around the world from mining to manufacturing, aerospace, advanced electronics and healthcare. Their work impacts the economy, the environment, our health, our safety and quality of life. Materials Engineers take on a wide range of roles in industry. In the minerals processing/mining field, Materials Engineers work in teams to develop and manage processing facilities for the conversion of ores into metals. Materials Engineers working in the manufacturing field act as experts for materials selection and use. They use their understanding of the relationship between processing and properties to ensure that products are safe and reliable. Materials Engineers also often become involved in Research and Development working in a laboratory or small-scale industrial facility, developing new materials, new processes for the production of materials and new ways of reusing and recycling materials. The Department of Materials Engineering at UBC is the most research intensive of all of the Engineering Departments at UBC as measured by the research funding to the Department.
To illustrate the types of jobs Materials Engineers occupy after graduation it is best to highlight some specific students and the jobs they occupy.
Jennifer Peverelle (above, left) currently works for Lincoln Electric, one of the world's leading suppliers of welding equipment. Her job involves troubleshooting current materials issues for customers while also aiding in the development of new alloys for welding consumables.
At the other end of the spectrum, Shannon Hoekstra (above middle, receiving the 2014 APSC Future Alumnus Award from Dean Parlange) currently works for Hatch, one of the world's largest consulting firms. Shannon works as part of a team involved in the design, planning and implementation of hydrometallurgical plants used for the conversion of mineral ores into metals.
Finally, Darren Bromely (above, right) is a Manager at Powertech, a company that performs specialized materials testing for forensics (failure analysis) and for product qualification. For example, Darren's group has a particular specialty in qualifying materials for used in the storage of pressured gases.
A great way to survey the jobs our graduates are currently in is to look at the Materials Engineering at UBC Linkedin Group. There you can see the backgrounds of over 400 different materials engineers! You can also find more graduate profiles on our Department website
Program
What distinguishes Materials Engineering from other engineering programs at UBC?
Materials Engineering is a specialized field with UBC's Department being one of only four undergraduate programs in Canada. Materials Engineering at UBC is among the top-rated programs in North America alongside other schools with strong Materials Science and Engineering Departments such as MIT, USCB, Carnegie Mellon and The University of Toronto. While graduates from Materials Engineering have a particular specialty focused on the processing, properties and performance of materials, their domain of application is extremely broad. Thanks to the importance of modern engineering materials, the field of Materials Engineering overlaps with nearly every other Engineering discipline meaning that materials engineers work in industries that are traditionally associated with other Engineering disciplines, e.g. the mining, microelectronics, aerospace and chemical processing.
What are the typical courses that someone in Materials Engineering takes?
The Materials Engineering curriculum focuses initially on two concepts: Materials Processing and Materials Performance. In Materials Processing, students learn about the different industrial processing techniques that can be used to make, shape and give properties to a material. This spans from primary materials processing, e.g. conversion of mineral ores to metals, to tertiary processes, e.g. joining or polymer composite components. In courses oriented toward Materials Performance, students learn about how the various different properties, e.g. mechanical, electrical or chemical, arise and how these properties are related to the internal structure of the material. These concepts are applied to the core material groups of metals, ceramics, polymers and composites. Examples of some of the courses taken in these two streams include:
A complete list of MTRL courses can be found here.
The Materials Engineering BASc is a fully accredited, interdisciplinary program. Students can register as an Engineer in Training (EIT) upon graduation. After four years as an EIT, graduates can register as a Professional Engineer in Materials Engineering or in a discipline consistent with their further specialization.
What is a typical course load in Materials Engineering?
The number of credits taken by students in Materials Engineering is as follows:
Second year: 39
Third year: 39
Fourth year: 39
In the fourth year, 21 out of the 39 credits are to be taken as technical electives. This gives an excellent opportunity for students to specialize in their final year.
Options
What options or streams are there in Materials Engineering?
In their fourth year, Materials Engineering students can elect to specialize into one of three streams:
Materials Manufacturing and Performance
Minerals and Metals Extraction
Biomaterials Engineering
In the Materials Manufacturing and Performance stream, students take a series of courses that allow them to delve more deeply into the question of how materials and manufacturing are co-related, and how one can manipulate the properties of a given material through changes to its chemistry and internal structure. Students who take this stream are well prepared for a career in advanced manufacturing industries, in forensic materials engineering or in research and development
In the Minerals and Metals Extraction stream, students get a more in-depth view of the primary production of metals from mineral extraction to metallurgical plant design. Students in this stream are well positioned for work in the mining and metallurgy fields, either with consulting firms in the design and construction of metallurgical process facilities or with mineral extraction firms working to facilitate mineral conversion in a plant.
Finally, in the Biomaterials Engineering stream, students are exposed to the new and developing of field at the interface between synthetic and biological systems. Students take courses on materials specific technologies (e.g. coating and nanofibre technologies) as well as in biomedical engineering. Specialization in this area provides an introduction to this new and rapidly advancing field. Students graduating with this specialization have the opportunity to pursue advanced research opportunities either in academia or in small start-up companies.
Career
What types of industries and jobs does someone in Materials Engineering work in?
Materials Engineering prepares you to be an expert on materials processing and performance. Given the importance of materials to all fields of engineering it should not come as a surprise that the fields that Materials Engineers work in is extremely broad.
In 2012 we surveyed our graduates from the past 10 years to get a better appreciation for what they are doing now. The range of activities of our graduates was astounding. The figure below illustrates the most common answers given.

Among the "Other" category, graduates indicated fields including, soil testing, investment banking, marketing, plant operations, oil and gas, urban planning, geotechnical construction, electronic materials, legal, biomedical, finance, and materials testing. A quick look at the members of the "Materials Engineering at UBC" Linkedin group will give an even better idea of the range of fields that Materials Engineers bring their expertise to. In the video below, you can see three of our recent undergraduate students (graduated 2014) talking about their co-op experiences in polymer manufacturing, aerospace engineering and welding.
What is the job market like for Materials Engineering?
Materials Engineers work around the world and, as such, the job market for Materials Engineers is always good. Because of the breadth of a Materials Engineering degree there is flexibility to apply ones skills to areas in high demand. For a statistical view of job opportunities for Materials Engineers in Canada see The Service Canada and The WorkBC Government websites.
The success of our graduates is reflected in their high earning potential. The figure below shows the outcome of our survey of graduates from the past 10 years showing that 50% are earning more than $80,000/year.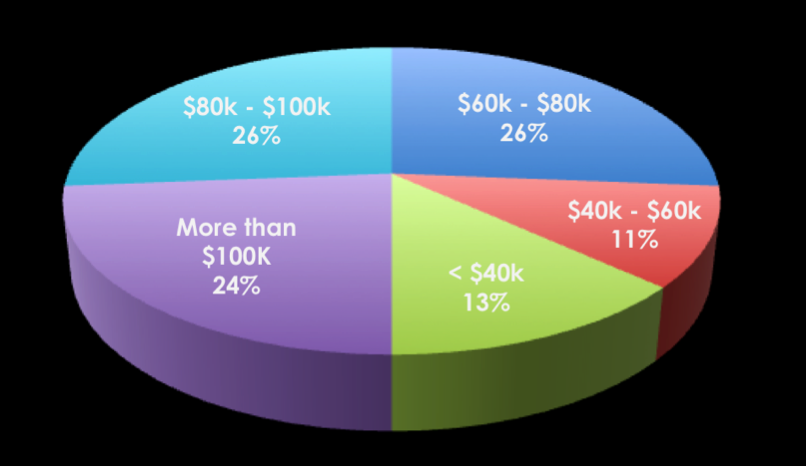 This is consistent with the 2012 Survey of Salaries by The Globe and Mail Newspaper that listed Materials/Metallurgical/Mining engineering to be the highest paid of the engineering disciplines in Canada.
Student Experience
What is it like to be a student in Materials Engineering?
This is a question that can only be answered by students! Below are a selection of quotes taken from surveys of recent graduates of our program you can find more comments on life as a Materials Engineering Student on the Department webpage (here and here)
Comments on the Field of Materials Engineering:
"Materials opens the door to lots of engineering industries. You need materials engineering for everything. I think it gives the widest range of options and you can branch into other things."
"To me, Materials is the leading edge in what's going on in engineering right now. Aerospace, biotechnology – the basis is really materials. "
"I was always interested in how things were made, and why certain materials were used. Being involved in snowboarding, I would wonder why my equipment was made out of certain material or combination of materials. Why could a single material not do it all?"
"I was recruited at one of the open houses. I chose Materials because of the possibilities – I saw engine parts, ballistic vests, cars, energy related products and so on. You can basically do anything, it is very versatile."
"I've really enjoyed the different kinds of labs we get to do and the hands-on experience – I also did a summer job working for one of the profs which was good experience. The whole environment in the Department is great – it's a small Department and everyone is friendly and supportive."
"The program provided me with the technical basis to be successful and the ability to work with people on a variety of different levels. My friends from the program continue to be a great network and provide me with contacts in various industries".
"The program was great. It introduced me to fundamental engineering principles and provided the background I needed to enter graduate studies in the field of biomaterials."
Comments on the Department
"I have particularly liked the small department. It is a close knit group. You get to know your professors. These things really make a difference in such a large university"
"I really enjoy the close interaction between faculty and students. You really interact and get to know everyone and I find that very helpful for my education."
"I have good friends in the department. I love group studying, the amazing facilities and helpful profs. And for me, it is great to have the opportunity to study biomaterials."
"I've particularly enjoyed the smaller department. I have been able to meet a lot of faculty, and got to know classmates much better than I ever expected. Participating in field trips and working in small groups led by professors has been a great experience for me and I would not trade for anything."
"The class field trips were really fun. We went on tours of different companies, got to know our classmates more and what kind of work we could be doing when we finish our studies."
"There are so many things I enjoy in the department, among which are: pace of learning, professor-student interaction, the students are free to air their views and ask questions. Social events add to this and you get to know both faculty and students. The multicultural nature of the department makes the discussions and making new friends interesting."
"I truly enjoyed my undergraduate experience at UBC. The materials engineering department is small enough that you really get to know your peers and professors. That provides an amazing environment for learning because you can combine fun with your friends with productivity on group projects (e.g. Building a jet engine and designing a Geckobot!)."
"I had a great time in the program. It was both socially fun and academically diverse. The knowledge that I gained prepared me for the challenges I now face at Ballard Power Systems, where I develop fuel cells for a living".
What are the unique student experiences in Materials Engineering?
The Department of Materials Engineering is one of the smaller Engineering Departments at UBC and as such it has a long history of being a close-knit community. Students from different years intermingle and Professors and students know one another on a first name basis. Students in Materials Engineering are exceptionally involved in the broader Engineering community, with Materials Engineering students having served over the past few years as (among others) EUS president, president of Engineers Without Borders, Organizer of the National Conference on Women in Engineering and First Year Experience Student Coordinator. There is a tradition of Materials Engineering students taking on leadership roles in Engineering as well as within the broader community at UBC. This history of involvement combined with the collegial, small Department personality of the Department makes it relatively easy for new students to get involved and engaged.
Below two of our recently graduated students (Shannon Hoekstra and Lawrence Lam) give their views on their exceptional undergraduate careers, Shannon as a TEDx talk in 2013 and Lawrence as an interview for his recognition as one of UBC's "Faces of Today" in 2015.
Another particularly unique aspect of the Materials Engineering program is our field trip program. In each of 2nd, 3rd and 4th years, all Materials Engineering students participate in field trips to visit industrial locations. In 2nd year, the field trip takes students to local (lower mainland companies) while in 3rd year students travel to Ontario for one week to visit a wide range of facilities in Eastern Canada. In 4th year students take one week to travel through Washington State and Oregon, again visiting companies with Materials Engineering related expertise. These visits not only give students a sense of a wide variety of Materials Engineering related industries, it often also lets them have contact with working Materials Engineers, many of whom are also graduates of our program.
TL;DR - MTRL is pretty awesome