APSC 100 FAQs - MINE
Jump to navigation
Jump to search
Below are frequently asked questions and answers relating to the MINE program.
General
What is Mining Engineering?
Mining Engineering is the engineering discipline that the majority of us ignores altogether, or pretends it does not exist. Mining Engineering includes everything to do with the extraction of valuable mineral resources from the Earth.
Mining is integral to the world demand for clean energy. It is a multidisciplinary career that incorporates mechanical, environmental, chemical, civil and geological engineering principles within a sustainable economic and social framework. Mining engineers must use their skills to design methods for clean and socially responsible resource extraction. Change is not easy, but it promises to be interesting.

Mining at UBC offers a broad professional degree program, integrating courses on engineering principles, earth and mineral sciences, mining and mineral processing case studies, health, safety and environmental issues, social sciences and management, as well as economics and business. We want our students to learn how to find the right balance between the need to mine mineral resources and the need to minimize the environmental and social impact of mining. Emphasis is on providing students with the comprehensive knowledge and hands-on skills to succeed in the industry.
Students have opportunities for industry employment and participation in research activity at working mines. This approach helps our students develop practical skills and gain exposure to valuable industry experience.
What are examples of the typical types of work or tasks that someone in Mining Engineering does?
Being a mining engineer is about a lot more than rocks, minerals, and hard hats. All UBC Engineering students complete a common, foundation year consisting of courses in general engineering, math, chemistry and physics. In second year, mining students are introduced to key principles in Mining and Mineral Processing in addition to other core engineering principles from other disciplines. Third year coursework provides opportunities for students to develop an in-depth understanding of rock mechanics, rock fragmentation, surface and underground mine design, physical mineral processes, flotation, mineral deposit modeling and engineering economics. In the final year of the program students complete coursework in ventilation, rock engineering design mine management, industrial automation, waste management, mining and environment, as well as mine and plant feasibility study. Students are encouraged to take technical electives in disciplines other than mining engineering, including courses focused on environment and computer science/engineering.  

Every year, graduating students in the Mining Engineering Undergraduate Program undertake an international field trip to learn about the industry in a different part of the world. Past trip destinations have included Australia, Brazil, Chile, China, Nevada, Poland, Portugal, Spain, and Turkey.
Program
What are some of the typical courses that someone in Mining Engineering takes?
See the UBC Calendar for the official Courses for UBC Mining Engineering.
Please also see the MINE Academic Planning Form (XLSX) in helping you track your completed courses.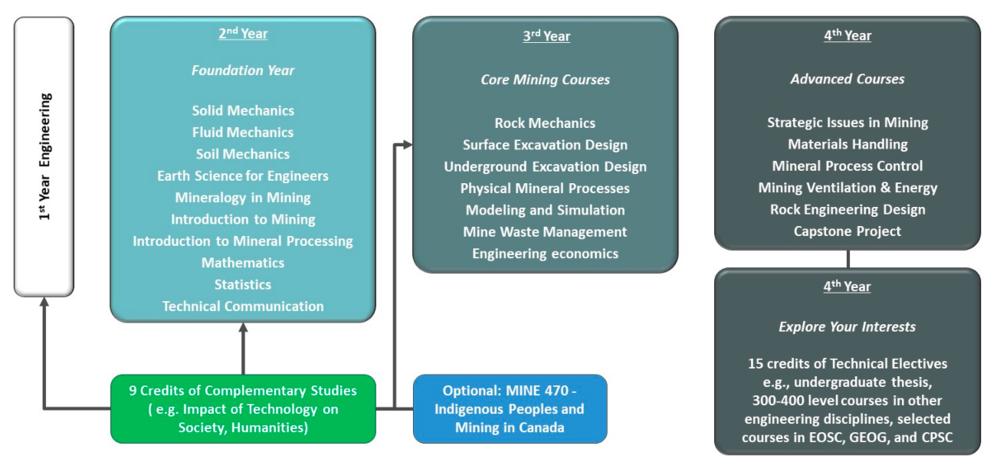 Career
What types of industries and jobs does someone in Mining Engineering work in?
The overall demand for minerals promises that UBC Mining Engineers will continue to be in great demand in the global job market. Indeed, the production of minerals, such as graphite, lithium and cobalt, could increase by nearly 500% by 2050, to meet the growing demand for clean energy technologies. "Over 3 billion tons of minerals and metals will be needed to deploy wind, solar and geothermal power, as well as energy storage, required for achieving a below 2º C future" (https://www.worldbank.org/en/news/press-release/2020/05/11/mineral-production-to-soar-as-demand-for-clean-energy-increases)
Typical careers include:
Mining companies & Mineral processing.
Consulting companies (Engineering design).
Provincial and federal governments, banks, financial and legal corporations.
Equipment manufacturers and suppliers.
Other opportunities: Travel - work anywhere in the world, careers that range from pure teaching and research to senior management; financial rewards; opportunities for critical thinking and problem solving; opportunities for life-long learning and continuing career advancement; access to state-of-the-art technologies.
How does Co-op work with the program?
The program consists of two 8-month and one 4-month work terms requiring 5 years to complete instead of the conventional 4 years. About half our students participate in the Co-Op Program. The Co-Op Office places students in mining engineering-type jobs with companies around the world.
If you would like more information or have a job for a student, please visit: https://coop.apsc.ubc.ca/