APBI 496 - Q&A With Past Students
Jump to navigation
Jump to search
See some of our students profiles by the BC SPCA!
Dairy Education and Research Centre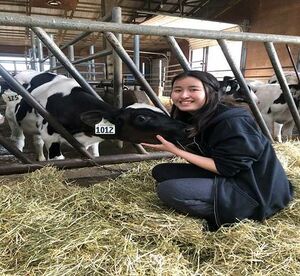 "After completing my practicum at the DERC, I went to visit a different dairy research facility. I found that because I got such an in-depth experience during the practicum, I was able to have an engaging conversation with the farm manager who enthusiastically conversed with me for 2 hours when he realized I was familiar with dairy! I was also able to apply the research I did for my final report, which was about colostrum management for male dairy calves. The farm manager showed me their colostrum storage system and informed me that he reserved the poorer quality colostrum for the male calves, while the female calves received the highest quality colostrum. This was an issue I read about extensively, so it was interesting to see this practice in actuality at a dairy and gave me more to think about."
"My experience as a practicum student at the UBC DERC was one of the best practical learning experiences I have had in my undergrad. The experience taught me about aspects of herd health and management, as well as production animal management that I had never been exposed to at this depth before, which really gave me an opportunity to apply principles of animal welfare I had learned in my coursework to a situation that I was in. The practicum also gives ample opportunity to learn in-depth about the animal research process, day-to-day dairy farm management routines, dairy cattle reproduction, as well as hands-on cattle handling skills! There is really no ceiling to how much you can learn at the UBC DERC, which is what I loved most about this practicum experience."
DERC Student Housing Tour Video
BC SPCA Wild ARC
"This practicum experience with the BC SPCA Wild Animal Rehabilitation (ARC) was a very unique opportunity that allowed me to gain insight into the relatively new field of wildlife rehabilitation. I learned a great deal about species identification in different stages of their life. I also learned how to properly assess body condition, fat deposits, hydration level, waterproofing ability and range of motion. I learned a lot from this practicum experience that I will be able to apply in my future endeavours."
"I was extremely satisfied, and even a bit surprised at times, by how hands-on my practicum experience was. This practicum placement was the most meaningful experience that I had the opportunity to receive at UBC. I believe that this practicum was an important factor in me achieving my goal of getting accepted into veterinary school and will continue to influence me throughout my academic and professional life."
District of North Vancouver
"I had the opportunity to make connections within a municipal government and gained valuable skills through carrying out a pilot study where I synthesized data, drew conclusions, and communicated with different departments and municipalities to acquire information. This enabled me to learn about regulations, recommend potential policy changes, and provide an educational presentation to the public about an issue I have become passionate about."
Marine Mammal Rescue
"I selected this experience because the opportunity to complete a practicum as part of my University of British Columbia (UBC) degree was one of the main reasons why I chose this program. In my first two years of university, I felt that I gained a lot of technical knowledge in the sciences, but that not a lot of what I learned had practical implications. As someone who learns best through hands-on experience and application of knowledge, I knew I wasn't receiving the full benefit of my education. When I found out about UBC's Applied Animal Biology program, I immediately knew it would be a good fit for my interests and learning style."
"My practicum at the Marine Mammal Rescue and Rehabilitation Centre has been a highlight of my university experience so far, and l learned so much more than I could have imagined. The people I met through the practicum were very kind and passionate about their work. The experience has cemented my career goal in the marine mammal rescue field. I really enjoyed the hands on learning that the APBI 496 course offered. It was an amazing opportunity that got me out of the classroom and using the skills and knowledge I've gained over the course of my education."
Centre for Comparative Medicine
"During my practicum, I had the pleasure of training pigs and rats. Training was a unique and direct contribution to improve the welfare of the animals. It was truly the most rewarding feeling to communicate with an animal through training, and see them perform amazing behaviours as a result!"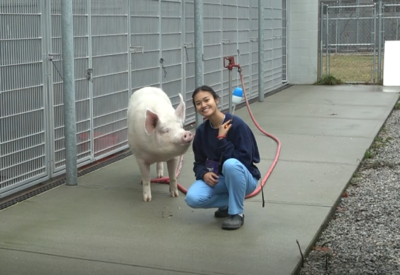 Wildlife Rescue Association
"My practicum placement at WRA was one of the best learning experiences of my undergrad and one of my favourite courses at UBC. I was given the opportunity to work with the amazing wildlife of BC and amazing people at the organization. I encountered so many new animals that I had previously never handled and learned so much about the world of rescue and rehabilitation and wildlife care. This experience gave me a lot of insight into my future career aspirations and really challenged me as a pre-veterinary student. I would recommend APBI 496 to anyone who wants to work with animals as the hands-on experience that you receive during the practicum is truly invaluable."
"...my experience at WRA had been educational and interesting. I was able to apply many concepts learned in courses at UBC but at the same time, gain new skills and techniques. Although there were some learning curves along the way, I was ultimately able to gain a deeper understanding in the field of wildlife rehabilitation, which will help me towards my goal of becoming a veterinarian."
"The WRA introduced me to wildlife rehabilitation and standard animal care. Throughout my time there I became eager to understand how the WRA operates outside the duties of animal care. The practicum program provided an excellent opportunity for me to gain that knowledge and earn credits towards my degree. The WRA aligns greatly with my values and I wanted to give back to the organization that helped me towards my career path."
BC SPCA Animal Shelter
"The unique part about this practicum is that I was able to see/work in the shelter and also be a part of a program that is working to help low income and homeless pet owners. It was beneficial to learn more about the Prevention of Cruelty to Animals Act and get a better understanding of what can be done to help animals in distress."
"To say that I had learned many things during this experience would be an understatement to what I had actually gained from this practicum. This practicum had taught me knowledge beyond animals and the shelter profession, it also taught me how to be a responsible and compassionate person."
"I never would have thought this practicum would give me such impactful and meaningful mentorship by my supervisors, and inspiration from the most selfless and compassionate staff at the shelter and volunteers at Charlie's Food Bank."