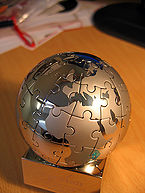 This exciting presentation will explore the intersection between Wikipedia and the university and ask how Wikipedia and the Wikimedia Foundation might support and extend the university's mission as well as aiding individual instructors' teaching and learning goals.
The presentation will also look at how in-class Wikipedia projects may promote media literacy and enhance public knowledge. It will share tips on navigating Wikipedia processes and reflect on the site's significance for higher education.
Learn more about Wikimedia's "reachout" initiatives, such as its $1000 Canadian scholarship award to whomever makes the greatest improvement to single medical article. The session will also discuss the UBC Wiki and explore how it may complement sites such as Wikipedia and WikiEducator. The session will take place on October 6, 2011, from 10:00am - 12:00pm.