EdX is part of "the evolving ecosystem of learning technology platforms, tools and applications on campus" (see UBC edX Partnership). This provides edX.org as a platform for UBC MOOCs, and also supports a platform called Edge that can be used for regular UBC courses. Edge can be used to provide a blended learning experience for campus-based courses, it can also be used to support UBC online and distance courses. Both edX and Edge provide a course authoring tool called Studio.
Jump to a section: Faculty Example | Get Started | Support | FAQ
---
How are faculty using this tool?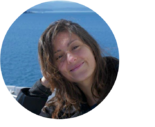 Astronomy 311 on edX/Edge
UBC is trying to increase its distance education course offerings in order to meet the needs of students throughout the province and internationally and also to offer more flexibility to students in Vancouver as well. Instructor Jeremy Heyl decided to take up the challenge with his Exploring the Universe: Stars and Galaxies course (ASTR 311). Read More...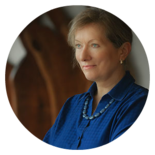 Research Methods course on edX/Edge
Find out how Ruth Martin, Instructor of Distributed Health Research Methods (DHRM C11), used edX/Edge for her research methods course. Read More...
---
How do I get started?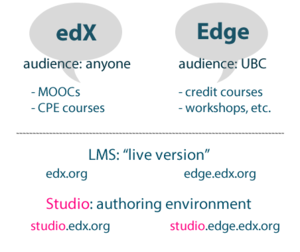 You can begin by taking the self-paced "edX 101" online course Overview of Creating an edX Course for instructors, which will orient you with the platform.
If your course is intended for residential students at UBC, you will set it up on edX Edge. You will need to first request a course via the Learning Tool Setup Request Form, and then you will author it using studio.edge.edx.org.
If your course however is intended to be a MOOC (Massive Open Online Course), you can apply for funding for a flexible learning project administered through the Teaching and Learning Enhancement Fund. You will set it up on edX. You will need to first be part of an approved MOOC team, before authoring the MOOC course using studio.edx.org.

edX has well-maintained documentation to help you get started with a course on either site.
First-time users should also note:
edX is good for presenting a course in a sequence of learning modules that integrate text or video content with interactive components. This approach may be especially helpful for instructors practicing a flipped classroom and for sessions of teaching at scale. Complementing this self-directed use of edX with collaborative and individualized learning activities (in person or online) is strongly advised to create a more personalized and well-rounded course experience.
Any instructors starting with edX should first familiarize themselves with its limitations, as it does differ distinctly from a full-fledged LMS (Learning Management System) like Canvas. edX is geared more for content delivery and self-assessment. Depending on the use case, edX may be most easily implemented as an embed within a traditional LMS (unless being used for a MOOC). This allows instructors to utilize edX's learning module layouts and interactive engagement options, while still using the LMS for other features that are more challenging in edX (when used at UBC) like grades and groups.
edX is a constantly-evolving platform that gradually changes over time. This means instructors using edX should be prepared to make updates when the platform does and skip using screencasts to demonstrate edX workflows to students; point them to edX's learner documentation instead, which is kept up-to-date.
What tools can I use with this?
edX offers a variety of tools that will help you design and manage your course effectively on edge:
Course Outline: organize your course material into sections (subsections units components).
Updates: post important announcements for students in your course to read when they log in.
Video: provide closed-captioning or transcripts for uploaded and embedded videos.
Discussions: add both standalone discussion forums and ones integrated into a course (e.g. a sub-forum for discussion of a particular video or problem set can be embedded on a page). Posts may be pinned, filtered, rated and followed.
Problem Questions: choose from a variety of question types ranging from multiple choice, drop down, text input questions to more advanced problem types such as image mapped input, math expression input, and peer instruction. Certain question types also allow for hints and targeted feedback, as well as answer randomization and multiple attempts.
Peer Assessment: this is an advanced problem, which allows for peer- and/or self-assessment. Students first submit their response, before viewing and evaluating their peers' responses using a rubric developed by the instructor. Depending on the expectations, students can complete a self-evaluation.
Grading: configure the grading criteria for any graded items of your course (quizzes, staff graded assignment). Students can access their grades from their Progress page. Note that edX limits grade adjustments.
Wiki: the internal wiki is a shared learning space, which enables the creation and editing of student-generated content.
edX provides more advanced features to help you customize your course further:
Cohorts: create smaller "cohort" communities in your course to provide student groups. Discussion topics can be divided by cohorts to allow students to communicate privately.
Content Libraries: similar to the question banks on Canvas, content libraries allow you to create randomized question sets for a given quiz.
Peer Instruction Tool: this activity is divided in three steps. 1. Students submit an initial response, which includes an answer choice and written explanation for that choice. 2. Students review responses submitted by their peers. 3. Students submit a final response, which includes an answer choice and revised explanation.
Polls: create multiple-choice questions to engage students with the content or collect student feedback.
Word Cloud: create a word cloud to appear as a colourful graphic generated from students' responses.
edX content can also be embedded in Canvas.
---
What support is available?
Support is provided by the Learning Technology Hub and individual instructional support units.
---
FAQ
What is the difference between edX and edX Edge?
EdX has two domains from which it serves content:
These are completely separate websites, with separate resources, databases, servers, login credentials, and authoring platforms. The difference that edX is the home for the MOOCs and Professional Education courses, while Edge is used by universities to provide material for their on-campus or other traditional students (and students must know your course URL to register).
What role does edX play in UBC's learning technology ecosystem of tools?
edX is not intended to replace any other learning tool. Instead edX is simply one platform integrated into an evolving ecosystem of learning technology platforms, tools and applications on campus. Excerpt from: UBC edX Partnership. At this point, edX lacks some core functionality required to be a complete LMS, although UBC and the other edX partner schools are actively working to enhance the platform. The edX and Edge environments may look very different in the future and now is an exciting time to experiment in that space.
What does it mean that edX Edge is a "cloud-based platform"?
In order to be compliant with FIPPA (privacy laws), UBC can not pass student personal identity information to edX Edge due to its cloud-based nature. However, CWL authentication is still available. When a user logs in using with a CWL, a non-PII (Personally Identifiable Information) identifier is passed to edge.org and associated with the student's edX username on Edge. UBC programmers are able to map this identifier to the student's UBC ID for grading and tracking purposes. A separate instructor-facing application is being developed for release in 2016 that will allow instructors to unmask student accounts on demand.
Can I use CWLs with edX Edge?
Yes. Faculty, staff, and students are able to log in to edX Edge using their CWL. A first time user will create an edX account after they have logged in with their CWL. Subsequently, they will be able to log in with their CWL directly. see how »
Can I embed edX Edge content?
Yes. The edX Edge site has been configured to be a learning tool interoperability (LTI) provider, allowing instructors to embed content, problem types, videos, etc. from edX Edge courses into courses in an LMS such as Canvas. When this is enabled in a course, marks from gradable content are passed back from edX Edge to the grade center. see how »