Overview
This online lesson plan uses the ISW BOPPPS model as a lesson planning framework. It is focused on the Universal Design for Learning's third principle, provide multiple means of action and expression. This Principle covers the following guidelines:
1.    Provide Options for Physical Action
2.    Provide Options for Expression & Communication
3.    Provide Options for Executive Functions
Online Module
Time to Complete
30 minutes
Learning Objectives
By the end of this module, you will be able to:
describe the universal design for learning action and expression guidelines.
apply Universal Design for Learning (UDL) guidelines in your course assessments and activities.
Reflect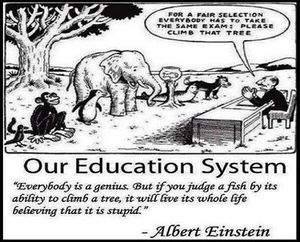 Look at the image on the right hand side and answer the below questions:
What is the main message in this picture?
Think about one of your course assignments and activities; how many choices do you offer to your students to show and demonstrate their knowledge?
This five-minute videos offers strategies for action and expression, one of the three UDL principles promoted by CAST. Action and Expression considers how students demonstrate what they have learned through a variety of assessment types and modes. <iframe width="560" height="315" src="https://www.youtube.com/embed/H66jHEiGNLQ" frameborder="0" allow="accelerometer; autoplay; encrypted-media; gyroscope; picture-in-picture" allowfullscreen></iframe>
Think about one your course activities, how do you provide opportunities for participation and feedback for your learners with movement and vision impairment?
Discuss
Go through the Top 10 UDL Tips for Assessment and download the UDL Worksheet for Assessment.File:UDLWorksheet Assessment.pdf We will use this worksheet in more depth during the workshop. For now, please review the document, think about one of your current course assessment approach and complete the UDL worksheet and:
Identify 2 areas for improvement with your assessment(s)
Identify resources that can support your assessment(s)
Go Further

UDL in Teaching and Learning at Accessible Instruction
Practical applications of this UDL principle in a Psychology Course and Chemistry Course
This module has been designed by Afsaneh Sharif at the Centre for Teaching, Learning and Technology (CTLT) at UBC- Vancouver