Gender, Population and Development

ECON 457
Section:
Instructor:
Dr. Nisha Malhotra
Email:
nishamalhot@gmail.com
Office:
Buch 902
Office Hours:
Class Schedule:
Classroom:
Important Course Pages
Syllabus
Lecture Notes
Assignments
Course Discussion
Databases for your Projects
Posters:Global Poverty and Health
Mortality rate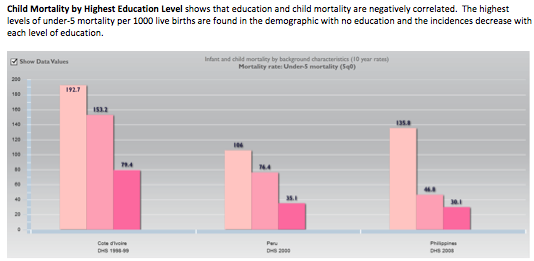 Malnutrition
Trends: Infant Mortality and Child Mortality.
Growth Performance: Underweight; Wasting; Stunting.
Mortality Rates by Wealth and Education status (by Lauren)
South Asia: Poverty Head Count Ratio (by Faye Yao)
Contraceptive Use & Poverty Level
Child Malnutrition and Poverty
India's Nutritional Status (Zheting's Assignment #1)
MDG 2 & 3 on Gender Inequality and Education: Yuna's & Zheting's Presentation
Trend: ??
HIV/AIDS Presentation (by Faye, Teresa and Lauren)