Wiki Help & Resources
Renaming Your Page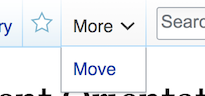 This is done by using the
move link
in the drop down arrow tab at the top of the wiki. The tab is not visible if you not are logged in.
Click on the move link
In the new title box, you'll find the current title of your page. It will look something like GEOG352/2020/Sample Page
Enter the new name after the prefix GEOG352/. For example GEOG352/2020/My New Title.
Click the move page button.
Sharing Your Work
All wiki project pages are openly accessible on the Internet. If you would like to give permission for other people to use them (for example, by including them on the UBC Open Case Studies Site), the project template includes a orange box that allows you to add your name(s) as author(s) of the resource and indicate if you'd like to share your work via a Creative Commons license. If you would like add a name for who or what project created the resource, add that info after the names parameters. If left blank, it will default to GEOG352.
The following is all optional but if you'd like your name added to the page as author as well allowing other people to re-use it as a conservation resource, you can:
Click on the edit tab to edit your page
Then scroll to the bottom and click on the orange box at the bottom of the page
This will generate a little pop-up with an edit button. Push the edit button.
In the names field, add your name if you would like to be credited as the author
In the share field, add "yes" (must be lowercase) if you would like to allow other folks to be able to reuse your page, such as by including it on the UBC open case studies site at http://cases.open.ubc.ca/. Clicking yes adds a creative commons license to the page.
Deleting Page/image
If you would like to delete pages or images, please send us the link of the page/image that you would like it to be deleted:
wiki.support@ubc.ca
will.engle [at] ubc.ca
rie.namba [at] ubc.ca
Library Resources
Virtual Drop-in Office Hours
Click on the link to access:
Contacts
wiki.support@ubc.ca
will.engle [at] ubc.ca
rie.namba [at] ubc.ca
Presentation Slides