FNH200
Exploring our Foods
Course Info
Instructor:
Judy Chan
Class Time:
Summer: T Th 9:30 to 11:20 am
Optional Teamwork Time:
Summer: T Th 8:30 to 9:20 am
Teamwork Time:
Summer: T Th 11:30 to 12:20 pm
Classroom:
Zoom
Office Hours:
By appointment via email
Facebook Gp:
UBC FNH 200 Judy's
Course Syllabus:
2020s Syllabus (PDF)
Past Projects:
Team Projects 2011-18.
2020 Summer Online
Course Lessons
2017 Summer (July - Aug)
2015 Winter (2016 Jan to April)
2014 Winter (2015 Jan to April)
2013 Winter (2014 Jan to April)
2012 Winter (2013 Jan to April)
2011 Winter (2012 Jan to April)
2010 Winter (2011 Jan to April)
Welcome to FNH 200 wiki page. This is the place your will use to submit two assessments:
Assignment Team on Canadian food substitutes, food additives, food regulations, and your informed choice
Team Projects
Use the tabs above to land at the right page for each assignment and project. By posting your assignments projects here, we are building an inventory of food sciences information of many common foods we all enjoy. Pages on UBC Wiki is accessible by anyone with internet access. Some projects contributed by students in the past have been viewed by thousands of visitors. Occasionally, I also receive emails from the general public asking for more details because the info presented here piqued their interests.
Formatting
Using Images on the Wiki
Click here to get help on adding images and pictures on wiki pages.

Renaming Your Page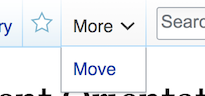 This is done by using the move link in the drop down arrow tab at the top of the wiki. The tab is not visible if you not are logged in.
Click on the move link
In the new title box, you'll find the current title of your page. It will look something like FNH200/2020/Sample Page
Enter the new name after the prefix FNH200/. For example FNH200/2020/My New Title.
Click the move page button.
Licensing and Citation
Attributing Open Licensed Material
Searching for Open Education Resources
Virtual Drop-in Office Hours
Click on the link to access:
Help Contacts
wiki.support@ubc.ca
will.engle (at) ubc.ca
rie.namba (at) ubc.ca