Library:Scholarly Communications/Innovative Dissemination of Research Award/2014
2014
2014: Phylo

David Ng, Director of the Advanced Molecular Biology Laboratory at UBC's Michael Smith Laboratories.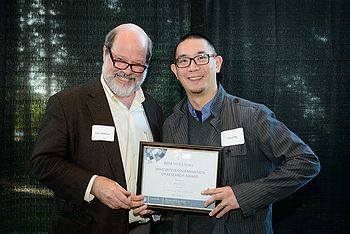 UBC geneticist David Ng is the 2014 recipient of UBC Library's Innovative Dissemination of Research Award. Ng created the trading card game Phylo, which engages players of all ages in biodiversity education.

Phylo showcases three innovative features:

the "gamification" of biodiversity concepts;
an open philosophy that makes all Phylo elements – ranging from printable cards to computer coding – freely available to anyone;
a crowdsourcing approach that incorporates expertise from different Internet communities and thousands of individuals across all of the game's aspects – the concept, the cards, the website and more. Contributors have included scientists, artists, programmers, educators, intellectual property lawyers and gamers.

Printed Phylo decks are available for purchase at the Beaty Biodiversity Museum or at the Game Crafter website. A mobile Phylo app is currently being developed.

Ng received the Award at a UBC research awards reception in March 2014.