Library:Scholarly Communications/Innovative Dissemination of Research Award/2011
2011
2011: Transcription Factor Encyclopedia (TFe)
Dimas Yusuf, 2nd Year UBC Medical Student Sponsored by Professor Wyeth Wasserman from the Centre for Molecular Medicine and Therapeutics.
About the Project

The Transcription Factor Encyclopedia (TFe), is an online encyclopedia that houses more than 800 articles about transcription factor genes. Transcription factors are a special class of genes that control when genes are turned on or off. They are critical to learning how to use embryonic stem cells for the treatment of human disease. The TFe, which is a wiki-based software system, encourages experts to create short summaries of the known information about each transcription factor. The summaries are comprised of text, 3D models, and word clouds.
How does the project reach new audiences?

The information included in the TFe benefits a wide community of doctors, scientists, clinicians and those who work in the life sciences. The TFe encourages the specialized community of researchers who study transcription factors to publish their knowledge in a concise and attractive format that benefits a wide range of biomedical professionals interested in stem cells and transcription factor genes.
What is innovative about the project?

Because transcription factor genes are so important for research, the sharing of gene-related information is vital. However, previous attempts to launch a system to do so have failed. TFe is successful in engaging a large group of over 100 scientists to participate because of its efficient and attractive multimedia design, and because it acknowledges the contributions and expertise of individual contributors.
Photo by Jill Pittendrigh.
2011 Honourable Mentions
---
Anne-Marie Nicol, Assistant Professor, School of Environmental Health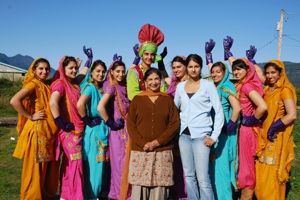 About the Project

Wash With Care is a community-based, collaborative research project aimed at raising awareness about pesticide safety in farming communities in BC's Lower Mainland. The project uses a series of Public Service Announcement videos to communicate information about how to safely launder pesticide-contaminated clothing. Because the primary audience for this information is Punjabi-speaking women, the videos feature a specially-choreographed bhangra dance and well-known Punjabi actors to disseminate their message.
How does the project reach new audiences?

Eighty percent of farm labourers in British Columbia's Fraser Valley are Punjabi, and they possess varying levels of literacy in English. Research has shown that these individuals, and especially Punjabi women who are often responsible for laundry duty, are at risk of exposing themselves and their family members to harmful pesticides through contact with contaminated work clothing. Although the BC Government has developed guidelines for how to safely launder pesticide-contaminated clothing, they are text-based and available in English only. The multimedia format of the Wash With Care materials, which are available in spoken and written Punjabi, make this important information much more accessible to the people who need it most.
What is innovative about the project?

Wash With Care, in engaging film makers, communications experts, actors, and bhangra dancers, steps well outside the usual means of dissemination for an epidemiological research study. Wash With Care communicates evidence-based information in an accessible and fun manner, and brings research findings to the population most in need of them.
View this project on cIRcle:

Photo by Anne-Marie Nicol.
2. Using theatre to disseminate research findings in education
George Belliveau, Associate Professor, Education
with David Beare, Jaime Beck, Graham Lea, Donnard MacKenzie, Amanda Wager, Wince White and Eva Ziltener


About the project
This project uses research-based theatre to disseminate research results from a study that focused on building community in the elementary school classroom. The research examined the work of four Vancouver classrooms that were exploring and performing Shakespeare plays as a way to build community. The project team developed two short plays to communicate research questions, data, analysis, and findings to a wide audience.
How does the project reach new audiences?

By presenting their results through theatre, the research team has made their results more accessible to a wide range of audiences, including school administrators, parents, and children. The performances also resonate strongly with academic researchers, and the dissemination model has attracted interest from research teams in health care, business, and science who are interested in using this dissemination model within their own disciplines.
What is innovative about the project?

Typically, findings from research projects in education are delivered at academic conferences through a traditional lecture style. Presenting results through a theatrical performance represents a break with tradition that has been extremely successful in engaging audiences on an emotional, as well as cognitive, level. As one audience member commented on a performance, "…all my senses were awakened by the presentation. This truly captures how children learn and the challenges they face."
3. MOA CAT and the Museum of Anthropology's (MOA) Online Collections
Nancy Bruegeman, Collections Manager, Museum of Anthropology
with Skooker Broome, Carole Mayer, Ann Stevenson, Jennifer Webb, and Sivia Sadofsky


About the project

The Museum of Anthropology (MOA) has launched new in-gallery and online collections access systems to share its research collections with the international community. These systems are constantly being updated with new additions and research knowledge, and feature rich multimedia methods for users to explore the collection through places, people, timelines, imagery, and more. The collections access systems feature more than 71,000 images of the collections, animations, audio of the names of objects in originating languages, and video and narratives, offering the user a multitude of ways to explore and learn.
How does the project reach new audiences?

The collections access systems repackage the research collection data in more accessible ways, opening it to use by a wide community of researchers, museum staff, originating communities (e.g. First Nations), educators, students, and the public. Previously, the only way to access MOA's research records was through physical books located at the museum, which were rarely updated. Now, a much wider community of people can access dynamic research materials and interact with them in new and innovative ways.
What is innovative about the project?

Traditionally, collections access systems have been created for anthropologists and collections staff, and thus were highly specialized and not accessible to a wide audience. MOA's collections access systems combine constantly-updated and cutting-edge research knowledge with flexible and multi-layered browsing tools, allowing them to support everything from collaborative research projects to inquiries from the public.
Martin Krzywinski, Research Scientist, BC Cancer Agency Genome Sciences Centre


About the project

By studying cancer genomes, researchers are able to better understand how they vary in structure from normal genomes. This type of research is used to improve diagnostic, prognostic, and therapy tools for cancer. Circos, a data visualization tool, allows for large amounts of data on cancer genomes to be communicated in an informative and attractive manner. The tool has helped accelerate the discovery and dissemination of results in the fast-moving field of cancer genome sequencing.
How does the project reach new audiences?

Circos images allow cancer and genomic researchers to effectively compare structural differences between two different cancer genomes, providing this group with a new and much more accessible tool to investigate the "landscape" of a cancer across a large number of samples and data sets. Because of their appealing and intuitive design, Circos images also appeal to non-specialists, and have been used in the popular media and in art projects to communicate scientific concepts to a wide community.
What is innovative about the project?

Circos images use a circular layout that, for the first time, allows for effective comparisons between different cancer genomes. Previous methods of genomic visualization used multiple "tracks" of horizontal data, which made it difficult to compare structural differences between genomes. Circos also offers users an interactive experience, allowing them to animate, zoom, and interrogate the images to obtain a richer understanding of the information they communicate.