Library:Scholarly Communications/Innovative Dissemination of Research Award

The Innovative Dissemination and Engagement Award (IDEA) recognizes innovative ways of communicating and disseminating knowledge. The Award honours UBC students, faculty, and staff who have created and/or used new publication formats, tools and technologies to engage the public with research and pedagogy.

About the Award
UBC Library established the Award in 2010 as the Innovative Dissemination of Research Award. As of 2015, the name of the Award has changed to reflect a broadening of the Award criteria, with an increased emphasis on community engagement and teaching tools.
Award
The Award consists of a framed certificate of recognition and a $2,000 cash prize. At the discretion of the adjudication committee, the award of $2,000 may be split into two prizes of $1,000, in the case of a tie.
Eligibility and Nomination Procedure
All UBC students, faculty and staff may nominate themselves or others as candidates for the Award by completing the nomination form. Include any additional information that you believe the committee would find helpful. Ensure that you have included a mechanism for reviewing the actual material such as a URL or copy of the research project. The nomination deadline for the next award cycle will be January 8, 2016.
Criteria
The committee will focus on the innovative vehicle used to disseminate knowledge. Nominated projects may encompass a wide range of scholarly activity, such as tools to make original research findings more widely accessible, to enhance teaching, or to achieve knowledge translation.
The adjudication committee will consider nominees on the following criteria:
Novelty of the dissemination model.
How well the vehicle engages a broad audience.
Whether the format encourages new ways of applying knowledge.
How the format enhances the audience experience.
Projects that are produced or led by undergraduate and graduate students, or by postdoctoral fellows or trainees, will be given special consideration.
Please note that the nominated projects should be completed or underway. The Award will not be given to proposed projects, as it aims to recognize successful dissemination of ideas.
Selection Committee
The University Librarian working with the Scholarly Communications Steering Committee or a subset of that committee will review nominations and select the award winner.
Please note:
All information submitted on behalf of the nominee will be kept in strict confidence.
The committee will not consider names that are submitted without the complete nomination information.
Nominations must indicate the consent of the nominee.
An acknowledgement email will be sent to the nominator upon receipt of the completed nomination form.
Previously unsuccessful candidates are eligible for re-nomination in a subsequent year; however, files will not be re-activated, new nomination processes must be followed.
Previous winners submitting new material are eligible for the award.
Nominations will be considered for posthumous recognition.
About cIRcle
cIRcle is UBC's digital repository for research and teaching materials created by the UBC community and its partners. Materials in cIRcle are openly accessible to anyone on the web and will be preserved for future generations. All Award applicants/nominees are encouraged to deposit their materials in cIRcle, if possible. cIRcle staff will be contacting Award applicants/nominees accordingly.
Application
How to Apply
The deadline to submit your application for the 2016 Innovative Dissemination and Engagement Award is January 8, 2016. The recipient will be announced in spring 2016.

2010
2010: Cycling Route Planner wins UBC Library's 2010 Innovative Dissemination of Research Award

Michael Brauer, Professor, School of Environmental Health

UBC Library has announced that Michael Brauer, a UBC Professor, has won UBC Library's inaugural Innovative Dissemination of Research Award for the Cycling Metro Vancouver Route Planner.
Brauer led a team that developed an interactive cycling route planner, Cycle Vancouver, which integrates research from various sources and disseminates it via a user-friendly Google Maps interface. This planner is part of the Cycling in Cities program, based at UBC's School of Population & Public Health and the School of Environmental Health.The tool allows cyclists to find routes that fit personal preferences, such as distance, elevation gain, air quality and vegetation. The underlying code for the route planner can also be easily adapted to other municipalities wishing to embark on similar projects.
Despite a very short lead time, the Library received 37 strong applications for this first Award round. The Library's Scholarly Communications Steering Committee, which adjudicated the entries, was highly impressed by the quality of the submissions from faculty, students and staff from all over campus, and astounded by the level and array of innovative and creative approaches to disseminating knowledge on our campus.
University Librarian, Ingrid Parent, awarded Professor Michael Brauer with the UBC Library's Innovative Dissemination of Research Award on March 11, 2010, at the Celebrate Research Week Gala event.
2011
2011: Transcription Factor Encyclopedia (TFe)
Dimas Yusuf, 2nd Year UBC Medical Student Sponsored by Professor Wyeth Wasserman from the Centre for Molecular Medicine and Therapeutics.
About the Project

The Transcription Factor Encyclopedia (TFe), is an online encyclopedia that houses more than 800 articles about transcription factor genes. Transcription factors are a special class of genes that control when genes are turned on or off. They are critical to learning how to use embryonic stem cells for the treatment of human disease. The TFe, which is a wiki-based software system, encourages experts to create short summaries of the known information about each transcription factor. The summaries are comprised of text, 3D models, and word clouds.
How does the project reach new audiences?

The information included in the TFe benefits a wide community of doctors, scientists, clinicians and those who work in the life sciences. The TFe encourages the specialized community of researchers who study transcription factors to publish their knowledge in a concise and attractive format that benefits a wide range of biomedical professionals interested in stem cells and transcription factor genes.
What is innovative about the project?

Because transcription factor genes are so important for research, the sharing of gene-related information is vital. However, previous attempts to launch a system to do so have failed. TFe is successful in engaging a large group of over 100 scientists to participate because of its efficient and attractive multimedia design, and because it acknowledges the contributions and expertise of individual contributors.
Photo by Jill Pittendrigh.
2011 Honourable Mentions
---
Anne-Marie Nicol, Assistant Professor, School of Environmental Health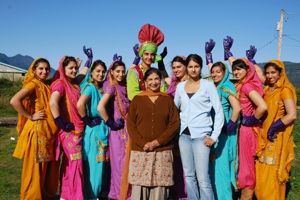 About the Project

Wash With Care is a community-based, collaborative research project aimed at raising awareness about pesticide safety in farming communities in BC's Lower Mainland. The project uses a series of Public Service Announcement videos to communicate information about how to safely launder pesticide-contaminated clothing. Because the primary audience for this information is Punjabi-speaking women, the videos feature a specially-choreographed bhangra dance and well-known Punjabi actors to disseminate their message.
How does the project reach new audiences?

Eighty percent of farm labourers in British Columbia's Fraser Valley are Punjabi, and they possess varying levels of literacy in English. Research has shown that these individuals, and especially Punjabi women who are often responsible for laundry duty, are at risk of exposing themselves and their family members to harmful pesticides through contact with contaminated work clothing. Although the BC Government has developed guidelines for how to safely launder pesticide-contaminated clothing, they are text-based and available in English only. The multimedia format of the Wash With Care materials, which are available in spoken and written Punjabi, make this important information much more accessible to the people who need it most.
What is innovative about the project?

Wash With Care, in engaging film makers, communications experts, actors, and bhangra dancers, steps well outside the usual means of dissemination for an epidemiological research study. Wash With Care communicates evidence-based information in an accessible and fun manner, and brings research findings to the population most in need of them.
View this project on cIRcle:

Photo by Anne-Marie Nicol.
2. Using theatre to disseminate research findings in education
George Belliveau, Associate Professor, Education
with David Beare, Jaime Beck, Graham Lea, Donnard MacKenzie, Amanda Wager, Wince White and Eva Ziltener


About the project
This project uses research-based theatre to disseminate research results from a study that focused on building community in the elementary school classroom. The research examined the work of four Vancouver classrooms that were exploring and performing Shakespeare plays as a way to build community. The project team developed two short plays to communicate research questions, data, analysis, and findings to a wide audience.
How does the project reach new audiences?

By presenting their results through theatre, the research team has made their results more accessible to a wide range of audiences, including school administrators, parents, and children. The performances also resonate strongly with academic researchers, and the dissemination model has attracted interest from research teams in health care, business, and science who are interested in using this dissemination model within their own disciplines.
What is innovative about the project?

Typically, findings from research projects in education are delivered at academic conferences through a traditional lecture style. Presenting results through a theatrical performance represents a break with tradition that has been extremely successful in engaging audiences on an emotional, as well as cognitive, level. As one audience member commented on a performance, "…all my senses were awakened by the presentation. This truly captures how children learn and the challenges they face."
3. MOA CAT and the Museum of Anthropology's (MOA) Online Collections
Nancy Bruegeman, Collections Manager, Museum of Anthropology
with Skooker Broome, Carole Mayer, Ann Stevenson, Jennifer Webb, and Sivia Sadofsky


About the project

The Museum of Anthropology (MOA) has launched new in-gallery and online collections access systems to share its research collections with the international community. These systems are constantly being updated with new additions and research knowledge, and feature rich multimedia methods for users to explore the collection through places, people, timelines, imagery, and more. The collections access systems feature more than 71,000 images of the collections, animations, audio of the names of objects in originating languages, and video and narratives, offering the user a multitude of ways to explore and learn.
How does the project reach new audiences?

The collections access systems repackage the research collection data in more accessible ways, opening it to use by a wide community of researchers, museum staff, originating communities (e.g. First Nations), educators, students, and the public. Previously, the only way to access MOA's research records was through physical books located at the museum, which were rarely updated. Now, a much wider community of people can access dynamic research materials and interact with them in new and innovative ways.
What is innovative about the project?

Traditionally, collections access systems have been created for anthropologists and collections staff, and thus were highly specialized and not accessible to a wide audience. MOA's collections access systems combine constantly-updated and cutting-edge research knowledge with flexible and multi-layered browsing tools, allowing them to support everything from collaborative research projects to inquiries from the public.
Martin Krzywinski, Research Scientist, BC Cancer Agency Genome Sciences Centre


About the project

By studying cancer genomes, researchers are able to better understand how they vary in structure from normal genomes. This type of research is used to improve diagnostic, prognostic, and therapy tools for cancer. Circos, a data visualization tool, allows for large amounts of data on cancer genomes to be communicated in an informative and attractive manner. The tool has helped accelerate the discovery and dissemination of results in the fast-moving field of cancer genome sequencing.
How does the project reach new audiences?

Circos images allow cancer and genomic researchers to effectively compare structural differences between two different cancer genomes, providing this group with a new and much more accessible tool to investigate the "landscape" of a cancer across a large number of samples and data sets. Because of their appealing and intuitive design, Circos images also appeal to non-specialists, and have been used in the popular media and in art projects to communicate scientific concepts to a wide community.
What is innovative about the project?

Circos images use a circular layout that, for the first time, allows for effective comparisons between different cancer genomes. Previous methods of genomic visualization used multiple "tracks" of horizontal data, which made it difficult to compare structural differences between genomes. Circos also offers users an interactive experience, allowing them to animate, zoom, and interrogate the images to obtain a richer understanding of the information they communicate.
2012
2012: Fisheries portal wins UBC Library's Research Award
Three members of UBC's Fisheries Centre are the 2012 recipients of UBC Library's Innovative Dissemination of Research Award.
The submission from Dr. Dirk Zeller, Mr. Ar'ash Tavakolie and Dr. Daniel Pauly highlighted [www.seaaroundus.org The Sea Around Us Project] portal. This innovative project aims to assess, document and communicate the impact of fisheries on the world's marine ecosystems, and propose measures to ensure globally sustainable fisheries. Each month, thousands of people access the user-friendly Sea Around Us portal, which provides detailed information from 1950 onward about the world's fisheries, including the catch and its value, fisheries subsidies and more. All data are global, but can be analyzed by region or country. Maps and figures of the data are also provided so that users can understand the data quickly. As a result, the project portal and databases have become a major source of fisheries information for scientists, environmental conservationists and many intergovernmental agencies around the world. The award winners will be formally recognized by Ingrid Parent, UBC's University Librarian, at the Celebrate Research Awards Gala on March 8, 2012. Honourable mentions include Dr. Heather Piwowar, Lauryn Oates and Dr. Bonny Norton, and Dr. Erin Michalak. The UBC Library Innovative Dissemination of Research Award honours UBC faculty, staff and students who expand the boundaries of research through the creative use of new tools and technologies.
About the Project

The Sea Around Us project was initiated in 1999 as a large scale collaboration between the UBC Fisheries Centre and the Pew Environment Group. Their aim is to provide an analysis of the effects of fishing on the world's marine ecosystem and to propose strategic mitigation measures to ensure globally sustainable fisheries.
How does the project reach new audiences?

The database can be summarized through associating data with predefined spatial entities allowing global leading NGOs such as WWF, Nature Conservatory and Oceana a more user-friendly manner to bridge the gap between scientific research and publication.
What is innovative about the project?

Unlike all previous efforts in fisheries science and fisheries conservation science, they created the first and only database in the world which assigns catch and derived information, such as catch values, to biological meaningful and politically possible space, by linking and filtering the fisheries data with the biological distributions of all exploited species, Exclusive Economic Zone fishing access agreements, as well as High Seas spatial fishing effort. Their data is unique in that it presents, for any area in the world, fisheries data in space (i.e., who takes what, where and when, and how much is it worth).
2012 Honourable Mentions
---
Heather Piwowar, Postdoctoral Fellow


About the Project

total-Impact is a website that illustrates an alternative approach to research exploration and evaluation. Its system goes beyond the traditional measurements used in research output, by taking evidence from a wide range of scholarly outputs such as papers, posters, datasets, codes, slides etc. and compiling a permanent URL report for dissemination.
How does the project reach new audiences?

Total-impact aims to report research impact metrics in a new way. The data in total-impact comes from other websites such as twitter, Mendely, Dryad etc. and is aggregated for multidimensional exploration and comparison. This has attracted interest from researchers , research groups and funders who are looking at other types of impact they may be missing when only considering traditional measurements.
What is innovative about the project?

In most disciplines related research findings and ideas are usually disseminated through papers, posters, perspectives, editorials, and blogs. They have rarely been illustrated through an actual working application. For example, surveys have found that scientists want recognition for their research outputs. Total-Impact empowers scientists to initiate this recognition by including the impact of their scholarship on their CVs. Analyses have revealed that traditional citation services omit non-traditional research output (preprints, datasets). Total-Impact demonstrates the implications of this finding. Analyses have revealed many failings of the journal impact factor. Proposed replacement solutions (h-index, etc.) have been based primarily on single dimensional, subscription-based, license-constrained data sources. Total-Impact reveals the possibilities of diverse and open altmetrics and facilitates future experimentation.

Lauryn Oates, PhD candidate, Bonny Norton, Professor and Distinguished University Scholar


About the project

The Africa ReN project was created as a means of sharing information and building knowledge in the field of applied linguistics and literacy in Africa and the Diaspora. Some of our projects objectives are to promote collaborative research on language, literacy, and learning in Africa and encourage debate on research findings relevant to applied linguistics and literacy research. The project also seeks to be an avenue to mentor research by graduate students and other emerging scholars and share research findings in local, regional, and international research communities.
How does the project reach new audiences?

A portion of a members profile form is published on the website as a means of helping scholars connect with others with similar research interests, facilitating collaborations across disciplines and countries.
What is innovative about the project?

This is the first online research network on literacy and applied linguistics, with a particular focus on Africa and its diaspora. Most dissemination of research in the Education field has relied on the printed word, and most publishers are based in wealthy regions of the world. Apart from South Africa, most African countries struggle to sustain a publishing industry. However, although digital technology in Africa is not as advanced as it is in wealthier regions of the world, digital technology in Africa is improving, and there is great interest in the possibilities of technology to enhance research and research dissemination. Their network is built on a highly collaborative model, with contributions from a wide range of stakeholders. The novelty of their network is its use of new media and online tools, particularly the framework and principles of Web 2.0, to engage a diverse and large research community physically separated by great distances. The network strengthens collective research outcomes through information sharing and communication, mobilized by cost-effective web resources, such as Twitter, to reach members and disseminate information.

Erin Michalk, Associate Professor Postdoctoral Coordinator, Faculty of Medicine


About the project

People living with mental health problems face many challenges that can be exacerbated by the stigma that is associated with their illness. Dr. Michalk has developed a knowledge to action approach through a knowledge translation method that involves the use of drama to share information about mental illness stigma with people with BD and their clinicians.
How does the project reach new audiences?

Through the dramatization of 'That's Just Crazy Talk' the knowledge transfer method engages both clinicians and people with BD and simultaneously, in doing so, potentially allows for dialogue and further knowledge exchange. Events like this will be an avenue for disseminating the intervention to mixed audiences across Canada and the United States in 2012. They are also an excellent means for Dr. Michalk's team to foster dialogue and collaborative relationships with non-profit organizations, clinician associations, and policy-makers across Canada.
What is innovative about the project?

The field of bipolar disorders research is typified by traditional biomedical model and KT methods, with a heavy reliance on medical 'expertise'. Dr. Michalk's program of research gives voice to a variety of additional types of expertise, including that of people with BD and their family members. The multidisciplinary research team Michalk established (CREST.BD, www.crestbd.ca) is the only research group in the world to use 'community-based participatory research methods', where the community is actively involved in all stages of the research and KT process. A key innovation of the project is that people with BD and BD healthcare providers viewed the play together and engaged in a post-screening Q&A session. In the performance, dramatic narrative conveys the corollaries of decades of personal and familial mental illness, translating the narrator's experiences of external and internalized stigma into a vivid, often humorous and sometimes troubled, portrait of life lived with BD.
2013
2013: Geophysics student wins Research Dissemination Award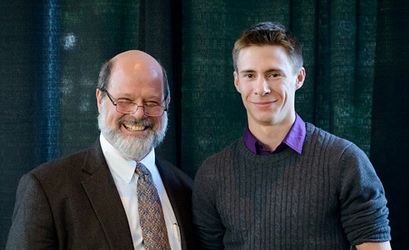 A Masters of Science student in Geophysics is the 2013 recipient of UBC Library's Innovative Dissemination of Research Award. This award honours UBC faculty, staff and students who expand the boundaries of research through the creative use of new tools and technologies.
Rowan B. Cockett's submission, entitled Visible Geology, came from a desire to improve the way geoscience research is disseminated to undergraduate students. It involves an interactive, web-based application designed to enhance the visualization of geologic structures and processes through the use of interactive 3D diagrams.
The program allows users to conceptualize difficult yet important geologic principles by creating and interacting with geologic block models. The visualization software is mainly used to assist with paper-based activities such as geologic mapping. These traditional assignments often put students who do not have practice with 3D visualization and spatial manipulation at a disadvantage. Visible Geology allows students to practice their visualization skills and create their own models and terrains, an interactive and immersive experience that employs video, animation and images.
Visible Geology has been praised by the geography community. Since November 2011, thousands of unique visitors have created their own geologic block models using Visible Geology, which is also used for introductory and structural geology classes. At an international geosciences conference in July 2012 in Knoxville, Tennessee, Cockett won an outstanding student award for geoscience education.
Cockett was formally recognized at a UBC research awards reception on March 25, 2013.
2014
2014: Phylo

David Ng, Director of the Advanced Molecular Biology Laboratory at UBC's Michael Smith Laboratories.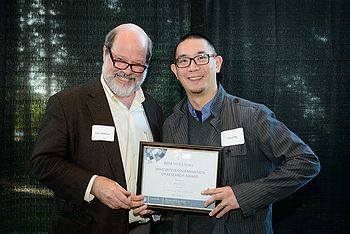 UBC geneticist David Ng is the 2014 recipient of UBC Library's Innovative Dissemination of Research Award. Ng created the trading card game Phylo, which engages players of all ages in biodiversity education.

Phylo showcases three innovative features:

the "gamification" of biodiversity concepts;
an open philosophy that makes all Phylo elements – ranging from printable cards to computer coding – freely available to anyone;
a crowdsourcing approach that incorporates expertise from different Internet communities and thousands of individuals across all of the game's aspects – the concept, the cards, the website and more. Contributors have included scientists, artists, programmers, educators, intellectual property lawyers and gamers.

Printed Phylo decks are available for purchase at the Beaty Biodiversity Museum or at the Game Crafter website. A mobile Phylo app is currently being developed.

Ng received the Award at a UBC research awards reception in March 2014.
2016
2016: c̓əsnaʔəm and SimPEG teams
Susan Rowley and the c̓əsnaʔəm research team are one of two UBC research initiatives to be recognized by IDEA for 2016. c̓əsnaʔəm is an ancient village and cemetery of the Musqueam people located in the heart of Musqueam traditional, unceded territory, dating back over 4,000 years. The c̓əsnaʔəm team seeks to encourage the Vancouver community to consider place in relation to historical and cultural meaning, in particular, the location of the University of British Columbia, which is situated on the ancestral land of the Musqueam people. The c̓əsnaʔəm research team explores language, storytelling, artifacts and culture, in relation to continuity, and the ongoing traditions of the contemporary Musqueam communities living in British Columbia today.
Support from UBC Library

UBC Library has supported the c̓əsnaʔəm research project in a variety of ways:
Library staff assisted with the c̓əsnaʔəm exhibit at IKBLC.
Library resources have been used throughout the research project: videos, ebooks, etc.
Rare Books and Special Collections provided high quality imagery for the project.
Various library staff and training from the i-school provided support for the success of the project.
The c̓əsnaʔəm Team

The c̓əsnaʔəm research represents a collaborative effort between diverse research communities at UBC:
Larry Grant, Adjunct Professor/Elder-in-Residence, First Nations and Endangered Languages/First Nations House of Learning
Leona Sparrow, Adjunct Professor, School of Community and Regional Planning
Susan Rowley, Associate Professor/Curator, AnthropologyMuseum of Anthropology
Jill Baird, Curator/Associate Faculty, Museum of Anthropology/Faculty of Education
Jill Campbell, Adjunct Professor, First Nations and Endangered Languages
Jordan Wilson, MA student, Anthropology
Jason Woolman, PhD student, Anthropology
Vanessa Campbell, Teaching Assistant, First Nations and Endangered Languages
Larissa Grant, Guest Lecturer, various
Community Impact

One aspect of the c̓əsnaʔəm research project has been a series of four collaborative exhibits between the Museum of Anthropology at UBC, Museum of Vancouver and the Musqueam Cultural Education Resource Centre and the I. K. Barber Learning Centre. c̓əsnaʔəm, the city before the city, is a groundbreaking exploration of an ancient landscape and living culture. The exhibitions opened in2015. These multimedia experiences included belongings, video, , interactive elements including a tangible table and soundscapes.
Legacy aspects of the c̓əsnaʔəm research project include an education kit created for elementary through high school students featuring a highly interactive design introducing students to the land, hən̓q̓əmin̓əm̓ language and culture of Musqueam.; a documentary film by Elle-Máijá Tailfeathers; and an interactive web-based resource connecting the ancient past to today.
The c̓əsnaʔəm research team intends to share the rich indigenous heritage of Musqueam with a wide audience and encourage education, as well as support new ways of thinking about place and space in a context connected with the past and present of the first peoples of Canada. The team is pleased to be recognized by IDEA, and look forward to the continued education and dialogue inspired by the c̓əsnaʔəm project.


What is SimPEG?
The SimPEG team is one of the two recipient teams for IDEA in 2016. SimPEG is a software package for research and development in geophysics, which provides a framework to carry out numerical research. The project is targeted at promoting exploration, experimentation and extension of ideas in an open-source manner. The project name SimPEG stands for Simulation and Parameter Estimation in Geophysics.
Project Goals and Successes
Goals of the project include encouraging conversations and inviting collaborations within the academic community; combining methodologies; community building; the development of a workable framework; and measurement of data and optimization. Current successes of the project include the development of common terminology; uptake within educational communities; development of the project as a learning tool; and a total of 554 downloads of the software package per month. This open source project is hosted on the social-coding platform GitHub. The project has also utilized one of the fundamentals of growth within the geophysics community, which is interconnectivity between disciplines (geology, geophysics, hydrology, engineering).
Team members Rowan Cockett, Lindsey Heagy and Seogi Kang are pleased to be recognized with this award, and look forward to the continued growth of the SimPEG framework. They would like to thank the amazing current (and future!) contributors, who are helping to make this project a community effort.