Library:Introduction to Newspapers and News Sources
This article is a candidate for deletion.
If you have any concerns, please start a discussion on the talk page.
superceded
Introduction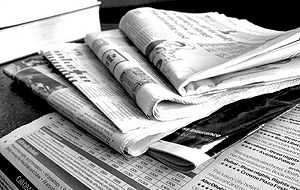 UBC Library has an extensive collection of newspaper sources. The collection includes both current and historical newspapers; newspapers from Canada, US, and international sources; newspapers in print, online in databases, and other formats such as microform.
Use this guide to find print, online, or microform copies of newspapers and newspaper articles available at the UBC Library.
To find articles you may:
search by topic - a person, company, event, etc. To find articles by topic you will need to use the online indexes and databases, or print indexes, listed in this guide.
search for a known article in a particular newspaper. Use this guide to determine if the Library has the newspaper title for the date you require; it may be available online, on microfilm, or if it's very current, in the original print version.
What are Microforms?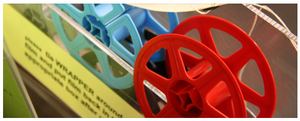 Microforms refer to materials, such as books and articles, that has been produced on film. Microfilm refers to the reels you see in the image. Microfiche looks like cards. To use this material you will need to use microform readers, machines that allow you to read, copy, and scan the information on the film.
The second floor of Koerner Library contains the microform collections and readers (machines). Help is available if you need it, for finding the microforms you need and using the readers or reader/scanners.