Library:CANSIM
About
Why use CANSIM
CANSIM is Statistics Canada's key socioeconomic database containing over 40 million time series. This is where to go when you are looking for statistics and data not found in the Census of Canada.
What it contains
Statistics Canada collects information about all aspects of Canadian life, but especially areas of federal jurisdiction like Economics, Environment, Transportation, Culture and so on. They also give a country-wide view of provincial areas of jurisdiction like Education, Labour, Health, etc. The best way to get an idea of what's available is to jump in and browse by subject.
CANSIM vs. Census
One way to think about whether the information you want would be found in CANSIM or in the Census is to ask how it might be collected. If it's something that would have to be asked of people directly (ie: mother tongue and additional languages, how many children they have, living arrangements, etc.), it's most likely in the Census. If it could be gathered through other agencies and institutions (ie: income information, immigration statistics, environmental statistics, etc.) it's most likely in CANSIM. Keep in mind that not everything you can think of will actually be available!
Find Tables
CANSIM provides a search box, but is very particular about the keywords it recognizes. If the word you search for isn't in the title of any tables, you won't get any results. It's more effective to browse by subject unless you know exactly what you're looking for.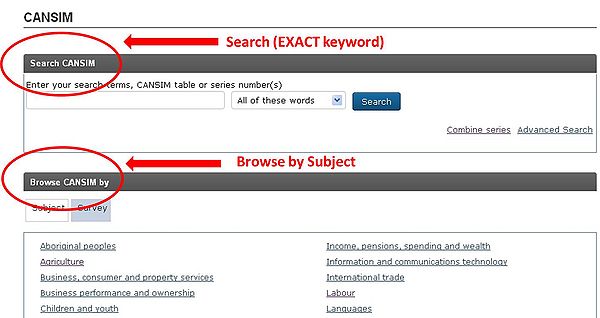 As an example, we're going to compare the youth unemployment rate to the overall unemployment rate in BC for the past 10 years.
Select the Labour link in the list of subjects.
Select Employment and Unemployment from the list of subcategories.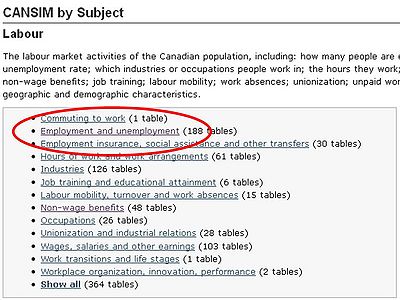 The list of tables in this subcategory is very long, and many of them look quite similar. The one we're looking for is on the 2nd page of results, Table #282-0087. This table contains the data that is used when the unemployment rate is reported in the media.

Customize
The table opens with a general overview of the data. There are many more options hidden, and we can customize the table by selecting the Add/Remove Data tab at the top.
We now have a series of options for customizing the data to be displayed. In order to compare the youth unemployment rate to the overall unemployment rate in BC over the past 10 years, we'll need to make selections accordingly.
Step 1: Select BC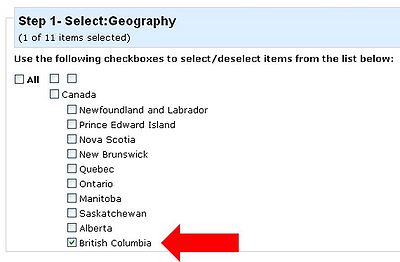 Step 2: Select Unemployment Rate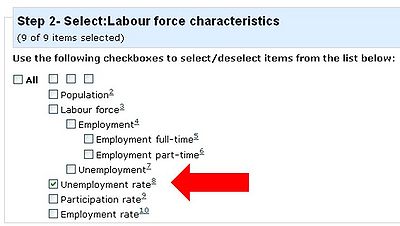 Step 3: Select Both Sexes

Step 4: Select 15 years and over (overall unemployment rate) AND select 15 to 24 years (youth unemployment rate)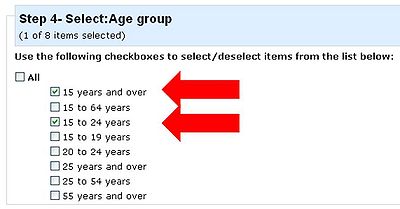 Step 5: Select Seasonally adjusted

Step 6: Choose a time frame. We want 10 years from the most recently available data.
Step 7: Choose time as rows for easier viewing with a long time series.

Step 8: Select Apply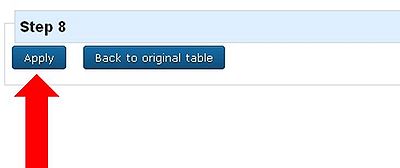 Download
To download your data table, select the download tab from the top menu.

Cansim provides a few options for downloading.
Option 1 lets you download just what is displayed in the Data Table tab. This would include any customizations you may have made in the Add/Remove data pane. Make the selections according to your needs and preferences. CSV files can be opened in Excel as well as other data manipulation programs.
Option 2 lets you download the entire table. This will include all of the available options in the Add/Remove data pane, as though you selected every box and the full available time range. This may be quite large!
More
This guide from the University of Toronto goes a bit more in depth to show how to combine data from two different tables and caculate the inflation rate as well as the growth rate of real GDP.
This series of video tutorials by a Carleton University economics professor shows how to do a number of different operations using CANSIM data. The series highlights several commonly used economic indicators.