Documentation:LTHub/Canvas/Clickers/FAQ
iClicker Classic will not support MacOS Catalina until December 2019.

We encourage our iClicker Classic Mac users to postpone updating to Catalina to allow continued usage of the iClicker application.
Q: How do I set up my classroom?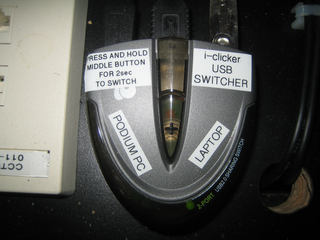 Your classroom will need a receiver base station to receive and process student votes. Check to see if your room already has a clicker base installed (see list of rooms for Vancouver or Okanagan). If it is not equipped:
Get your classroom equipped. An iClicker receiver base can be installed for you (as long as the room has a podium to lock the iClicker receiver base into). Please contact clicker.support@ubc.ca to have one installed.
If a base cannot be installed, you can use a portable iClicker receiver base. The Centre for Teaching, Learning and Technology will loan you a portable base that can be used in any room. Check the list of rooms to see which frequency you can use.
The iClicker receiver base can be connected via USB to a laptop or podium computer. The USB port for your flash drive can be found on the right side of the iClicker base receiver.
If using a fixed classroom base, the iClicker USB switcher near the podium (see picture) has to be set to either a laptop or podium computer input in order for the receiver to function. The location of the switcher may vary depending on the design of the podium. To switch the input, press and hold the button on the switcher for two seconds.
Click here for more details about connecting the hardware.
Q: How do I setup iClicker to sync with my Canvas course?
Open iClicker
Select your clicker course and click "settings"
If you are setting up a new clicker course, click "+ Create" and enter the course name
Go to Gradebook, and click "Select Course"
Log in using your CWL
There will be a prompt asking for your permission to allow the software access to your Canvas account. Click "Authorize"
A pop up window with list of courses will show up. Select the Canvas course to sync with the software
If there are more than one Canvas course with similar name and section, select the first option
Click "Select"
Click "Save"
Q: How do I import my course roster?
Click 'Open Gradebook'
Click the 'Sync Roster' icon.
Q: How do I sync scores to Canvas?
Click 'Open Gradebook'
Click the 'Sync Scores' icon. .

Check off the sessions you would like to upload, or click 'Select All'
Click 'Next'
Choose how you like to customize your uploaded data. You can upload all sessions separately or combine them as one single entry
Click 'Upload'
Q: Why can't I see my course when I try to sync?
To be able to sync or upload a course roster to Canvas, you must be assigned the "Teacher" role in your course. If you are assigned the "Instructor" role, please contact the Learning Technology Hub.
I receive the "Error writing to disk" error on my Mac

For users using Mac OS Sierra or higher, you may not be able to run the UBC configured version of iClicker from the Software Distribution site. Follow these steps to create UBC Configured iClicker software:
Download the current version of the iClicker Classic software from the official iClicker site here.
Using Finder, create a New Folder on your Mac for the iClicker software
Open the .dmg file that you just downloaded from the above link and drag the iClicker application to the folder created in step 2
Run the iClicker application from your folder, then close the application. Do not proceed to set up your course at this point
Download the UBC Configured iClicker Resource Folder, unzip if necessary
Open your iClicker folder and replace the Resources folder found within with the new Resources folder you have just downloaded above
Run the iClicker application again and proceed with course setup
Please contact clicker.support@ubc.ca for assistance in setup.
Q: Why is there a significant delay in starting polls/advancing slides using my instructor clicker?
For Mac users on Mavericks or newer OS, a new feature called App Nap may slow down iClicker and cause significant lag time for the instructor remote to respond. To disable App Nap, open the iClicker application, click on Settings. Under the General tab, uncheck the box next to Prevent App Nap.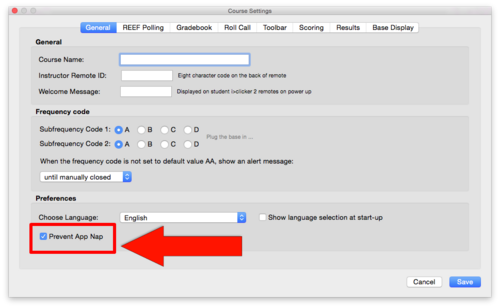 Q: Why doesn't my instructor clicker respond when I try to start polls, show result chart, and/or advance slides?
For every new course you create in iClicker, you will need to add the Instructor Remote ID in the settings
Open iClicker and click "+ Create"
Enter the course name under the "Course Name" field and click "Create"
Select the course you just created and click "Settings"
Add the Instructor Remote ID found on the back of your blue remote. No clicker ID contains the letter 'O', although it may contain zeroes.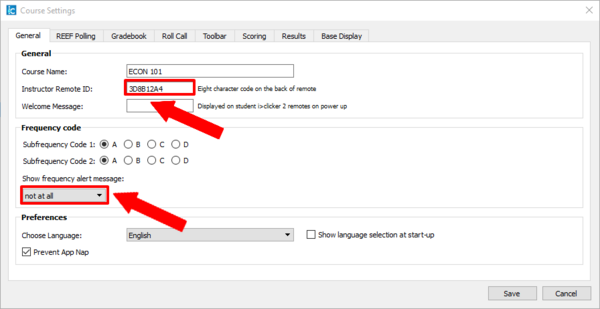 If you are unable to advance slides after re-positioning the iClicker toolbar in PowerPoint, click on the PowerPoint slides to make PowerPoint the active window to allow advancing.
If you are unable to show result chart after switching to another PowerPoint slides, close the iClicker toolbar by clicking the "x" on the top left corner, then click on "Resume Session" on the iClicker main window. You will not lose the previous session data nor start a new session by doing so.
Q: How do I disable the Base Frequency alert message that shows up every time a polling starts?
If you are using i>clicker version 7.4.5 and newer, you can disable this message in Settings > General tab. Under Frequency code > Show frequency alert message, select "not at all" in the drop down list.
Q: Why am I not able to collect vote after a polling has started?
For Microsoft Surface Pro or Lenovo Think Pad X1 Carbon users, you will need to disable Bluetooth on your device for the iclicker software to collect student responses properly.
Q: How do I turn on the clicker base installed in the lecture room?
The clicker base draws power from the classroom Podium PC through USB connection. Make sure the Podium PC is turned on even if you are running iClicker from your laptop. The location of the On/Off button may vary depending on the design of the Podium.
Q: Why doesn't my portable clicker base work with iClicker 7?
Your base's firmware might be out of date. Contact clicker.support@ubc.ca to request a new base. Please bring the old base with you so we can update it.
Q: Why can't I log in to the iClicker Gradebook?
Make sure you are connected to ubcsecure if on campus or myvpn.ubc.ca if off campus.
Q: Why doesn't my Gradebook sync all of the student scores with Canvas after a successfully export?
There might be a problem with your current roster that interrupted the export. Try updating the roster again by clicking on the "Sync Roster" button to download the most up to date list, then click "Sync Scores" to export scores again.
Q: My base is connected and I have the latest version of iClicker software. Why does it not allow me to start polling?
Make sure your iClicker base firmware is up to date. Some older versions of the base firmware are not compatible with the latest iClicker software. If the colour of your iClicker base is black, contact clicker.support@ubc.ca to exchange for a newer version. If the iClicker base is white base and you experience this problem, download the i>clicker Firmware Base Utility to update the base firmware, then restart your iClicker software.
Q: Why are students' name showing up in red in Gradebook?
When a student name shows up as red text in iClicker Gradebook, this means the student is enrolled in your course but did not register their clicker in Canvas. You may also see some Clicker IDs in red text appear in your iClicker Gradebook which means students have used their iClicker in your Clicker session, but did not register their clicker in Canvas.
Make sure iClicker link is enabled in your course page for students to register their clicker. Follow the steps below to add the iClicker link to your Canvas course's menu:
Log into your Canvas course
Go to Settings > Navigation tab
There should be two sets of list on the page. Drag iClicker from the bottom list to the top list
Click Save
Next, sync the class roster in your iClicker software.
Connect to the ubcsecure network if on campus or myvpn.ubc.ca if off campus
Open iClicker from your iClicker folder and choose your course
Click Open Gradebook
If you have not selected your course in Course Settings, follow the steps above on how to sync iClicker with your Canvas course
Click on Sync Roster again if your roster is not updated
Q: Why isn't my clicker turning on after replacing the batteries?
Make sure to replace all the batteries. Older models of clicker have three batteries. Gently hit one end of the clicker and the third battery should come out.
Note: iClicker+ contains only two batteries.
Q: My students asked me about REEF Polling. What is it?
REEF Polling (formerly i>clicker GO) is the mobile version of iClicker. If you are running an iClicker version older than 7.4.2, you must update your software to use REEF.
Q: Why is iClicker toolbar and result graph not displaying on the class projector screen?
The projector acts as an extended screen. Drag the toolbar and the result graph onto the projector screen to display them to the class.
Note: If you are the projector screen and your iClicker crashes, you can using mirror display or position the projector/extended screen on the right side.
If you are using PowerPoint, left click on the PowerPoint slides to make PowerPoint the active window so you can advance slides using either the instructor remote or the arrows on your keyboard.
Q: How can I display iClicker in conjunction with Keynote Presentation software?
In Keynote Slideshow Preferences, there is an option labeled "Allow Expose, Dashboard, and others to use the screen." If you check this, and then open iClicker, the control bar should appear on the screen.
Q: iClicker application's formatting is unreadable or appears too small on the screen, how can I change that?
The latest version of iClicker should fix this problem. Follow the steps below to update your iClicker software.
If you are using a Windows 8 (or newer) computer with a high-DPI display, you will need to disable display scaling for iClicker.
To do this
Locate the iclicker.exe application in your iClicker folder
Right-click the file and select Properties
Go to the Compatibility tab
Check the checkbox for Disable display scaling on high DPI settings
Click Apply then OK to save the settings
Q: How to update iClicker Software?
To make sure you are running the newest version of the software, you can run the automatic update check by following these steps:
Run iClicker
Go to Help, and Check for Update. For Mac users: look in the top menu bar
If there is an available update, click Update to update your iClicker to the latest version

Clikcer Software Update
Note: You will not lose any existing data or configuration after running the update. The "Archive" folder that contains the older software can be deleted.
Contact Us
Feel free to contact us at clicker.support@ubc.ca if you have any other questions regarding iClickers. We will be very happy to help you.