Documentation:LTHub/Canvas/CanvasCatalog/FAQs
What support is available?
Support is provided by the Learning Technology Hub
FAQs
How is Canvas Catalog different to the regular UBC instance of Canvas
Canvas Catalog is a separate instance of Canvas used at UBC. It includes a course catalog that students can search and sign up for courses. Current students may also register for courses in Canvas Catalog for continuing education or non-degree-related purposes but those courses will not be available on official or unofficial transcripts from UBC. Important things to note:
Logging In: UBC Participants can enrol using CWL. Non-UBC participants can enrol into a CPE course using an email address.
Students/Participants: A person can be a registered student in a UBC degree program on Canvas (canvas.ubc.ca) while at the same time be a participant in a non-credit course(s) on Canvas Catalog (courses.cpe.ubc.ca). Note: A course(s) taken on Canvas Catalog will not count towards a UBC degree program.
Roles: Canvas offers a number of roles — including Student, TA, Teacher, Designer, and Observer — each of which is associated with its own permission settings.
Important: If you already have a UBC Campus Wide Login (CWL) account, we suggest that you use your CWL to login. If you do not have a CWL, during course registration you will be prompted to create a local Canvas login using your email address. Once you have a local Canvas login or CWL, you can continue using it for future course registrations.
Browse free Canvas Catalog courses at UBC: https://courses.cpe.ubc.ca/browse/ubcv/ctlt/courses/canvas-101
What is Canvas Catalog used for?
Catalog has a variety of uses including:
Professional Development
eLearning Courses
Continuing Education
Training Workshops
Seminars
Webinars
What are some examples?
Create public course offerings and custom course landing pages
Identify collections of courses to create specializations or programs
Effectively market courses and course catalogs
Issue discounts or promotion codes
Automatically distribute certificates and other recognitions of completion
Can Canvas Catalog be used for UBC for credit courses?
No, Canvas Catalog cannot be used for credit courses or courses. It can be used by departments who wish to offer online educational courses to non-matriculated students (also commonly called "Continuing Professional Education" or "non-degree" students) who aren't enrolled in a degree-earning program. Current students may also register for courses in Canvas Catalog for continuing education or non-degree-related purposes but those courses will not be available on official or unofficial transcripts from UBC.
How do I request a course/programs?
A CPE course can be created by the LT Hub or your department's designated CPE administrators. If you are interested in being a designated CPE administrator for courses in your department's programs, please contact the LT Hub or submit a requests can be submitted via ubcltadmin.fluidreview.com.
As a Catalog admin you can manage all courses and programs in Canvas Catalog on the Listings page. (Note: Administrative access to Canvas Catalog requires approval from leadership in your department. Requests can be submitted via ubcltadmin.fluidreview.com)
Here is some terminology to remember:

Listings: The Listings page shows an overview and status of all course and program listings.

Programs: A series of courses can be grouped together into a program. Instead of registering for each course individually, a user can register for a program which includes access to all of the courses within the program. In order to request a program, each of the individual courses that make up a program must be requested first. Individual courses are then added as requirements in a larger catalog program.
Here is an example program called "OEE Practice Educator Resource Centre" and available course listings within that program: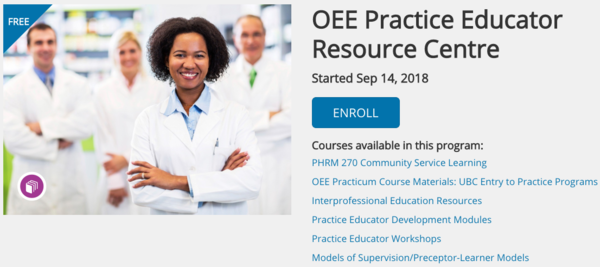 .
Is it free to use?
Yes, Canvas Catalog is free to use for UBC staff and faculty. [Note: Canvas Catalog cannot be used as a sign-up list for events, to sell merchandise, or for online courses targeting current UBC students].
Can I customize the URL for my Faculty or Department?
Faculties and Departments have three options to choose from.
Option 1: Use the Canvas Catalog default URL. Example: courses.cpe.ubc.ca/browse/[faculty]/[something]
Option 2: Use a partly Canvas Catalog default URL. Example: [something].courses.cpe.ubc.ca
Option 3: Pick a custom URL for your Canvas Catalog Courses. Please note that Instructure charges a $1,500 USD annual fee
Can I brand it for my own program/unit/faculty?
Canvas Catalog can be customized for units and faculty.
Can it be used to register students into our program?
Canvas Catalog can be used to register students into courses or sets of courses. Students can register for courses or a series of courses either via the Catalogue or by a link process. Each unit or faculty can customize fields that students fill out as part of the course registration. Note Canvas Catalog is not authenticated using CWL. This means that students can enrol in the Catalog course using any name or email that they chose.
Is the Canvas Catalog payment gateway available?
The payment gateway is not yet available. Canvas Catalog will support registration for free courses at the present time.
What learning integrations (aka LTIs) are available for Canvas Catalog?
Integration needs and priorities are being discussed with Faculties and Departments who are interested in using Canvas Catalog. At the present time, we're working on integrating Kaltura with Canvas Catalog.
Can I transfer content / courses easily from my UBC canvas courses?
Yes content can easily be copied from UBC courses to Canvas Catalog. This can be done using the course import/export function or by uploading courses into the Canvas Commons and downloading them into Catalog. Note that because Canvas Catalog is an open platform there are different considerations for copyright related to what falls under Fair Dealing provisions. There are currently no integrations set up in Canvas Catalog so you cannot transfer content from tools such as Kaltura, UBC Blogs or other integrations.
How can people browse Canvas Catalog?
Catalog courses and programs are easily searchable at https://courses.cpe.ubc.ca/. You can use the Search field on the home page, or just browse the catalog listings.
How can I generate a course certificate for a CPE course offered on Canvas Catalog?
Adding module requirements to some or all of your modules can trigger a Course Certificate. Do you want your participants to view each page in a module or achieve a 3 out 5 on each module quiz or mark a module as done? There are many ways to trigger certificates, you just have to decide what makes sense for your course.
Participants who meet all of the completion criteria set in a course will be listed as having completed the course.  Upon course completion, students can download (see image at right) a PDF certificate that includes the student's name, date of completion, and the course name.  Departments can choose from one of three available default templates or create their own customized certificates.