Documentation:LTHub/Blogs
UBC Blogs provide an interactive website platform where instructors and students can create content individually or collaboratively, resulting in outcomes like a course website, a group blog, a peer review space, or a personal portfolio or blog—all built on a flexible WordPress foundation.
Jump to a section: Get Started | Support | FAQ
---
How do I get started?
Plan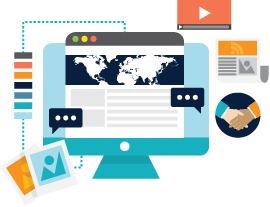 Planning starts with considering the kind of learning you want to support. Consider:
How might blogs support my goals for student learning?
What lasting benefit might students derive from their use of a blog?
What will they/ I need in the way of support to get started?
Blogs are particularly good at supporting:
Reflection: students may be encouraged to reflect on readings, experiences or their own learning as part of a course or program. Posts can be protected (for only the instructor or group to view) or shared publicly.
Portfolios: students can maintain their own blogs as spaces to publish, share and review their work over time. Since blogs can handle a variety of media (either via uploads or embeds), they are useful as a way to assemble work from a variety of online sources (video, slides, docs, etc). Online portfolios can help students build a scholarly digital presence.
Community building: Connecting student blogs via a course "hub" blog, allows students to see what others are thinking about, working on. Encouraging comments, feedback helps students learn from their peers and others, including experts from the community (if desired).
Digital/web literacies: Because blogs are essentially personal publishing platforms that are highly customizable, students can develop them as they do/build/create online. Mozilla has done some great work at defining entry level web literacies associated with so-called 21st century skills.
Open courses and resources: UBC Blogs can be used to create resources that are open and available to anyone on the web.
Functionality
We have highlighted 2 different blog options so that you can compare functionality according to your needs. Bring your questions about any aspect of functionality to the Learning Technology Hub - we are happy to consult with you about your project and your needs.
| | UBC Blogs | WordPress.com |
| --- | --- | --- |
| Authentication | | |
| Open | | |
| CWL | | |
| Student Control | | |
| Privacy Options | | |
| Commenting/Discussion | | |
| Theme Options | | |
| Instructor Management | | |
| Version Control (Revision History) | | |
| Clone/Export and Import blogs | | |
| adding users to blogs | | |
| embedding feeds/student content | | |
| grade book integration | | |
| LTI Integration | | |
| Advanced Customization | | |
| Theme Options | | |
| CSS Stylesheets | | [1] |
| Network enabled plugins for extra functionality | | |
| Analytics | | |
| In-House | [2] | |
| Google Analytics | | |
| Support | | |
| in-house | | |
Notes
↑ To use the custom CSS feature on WordPress.com, you will need to pay for the premium plan.
↑ UBC Blog uses xAPI for in-house analytics. Sauder, for example, used xApi in one of their courses. For more information, please contact blog.support@ubc.ca.
Setup
You can log in with your CWL to start, choose the theme of the blog, and manage your own blog and/or invite students to do the same.
UBC Blogs has its own website, which has detailed documentation on getting up and running with a blog.
What tools can I use with this?
Content from other UBC platforms can be embedded into your blog, including:
Using UBC Blogs with Canvas
Faculty and staff can create a new UBC Blog directly through Canvas. UBC Blogs can be made accessible through the side navigation bar or in a Module.
Log in to your Canvas course.
Go to Settings.
Select the Navigation tab
Scroll down until you find UBC Blogs.
Click the gear and select Enable.
Create a new UBC Blog and add it to a Module:
Log in to your Canvas course.
Go to Modules.
Press the Add item button on a module.
Select External Tool from the drop-down menu.
Select UBC Blogs and then add item.
Once you've created a link to UBC Blogs through a module or the course navigation menu, you or your students can automatically sign in to the blog by clicking on the link to UBC Blogs in Canvas. Students will be added as blog authors as soon as they sign in.
Please contact the Learning Technology Hub for assistance if you would like to link to an existing UBC Blog in Canvas.
---
What support is available?
UBC Blogs has been developed by UBC's Centre for Teaching, Learning and Technology. Contact blog.support@ubc.ca with questions.
Drop-in support is provided by the Learning Technology Hub. Additional expertise is available during CTLT's weekly WordPress and Wiki Clinic, generally held on Thursdays. Check the events calendar for upcoming clinic times.
---
FAQ
UBC Blogs has its own FAQ page.