Course:VANT149/2020/Capstone/Arts/Team37
Biographies
Sanny Hwang
Saeyeon Hwang (Sanny Hwang) is a first-year student at UBC vantage arts, moving onto the second year. She is from Korea and went to high school in the United States and came to Canada for university.
Her recent activities at school are doing a research program at vantage college and consulting orientation for incoming freshmen. She is working as an executive member of the UBC Korean Intercollegiate Student Society and Korean Journal club, Haneebaram.
Sunny Park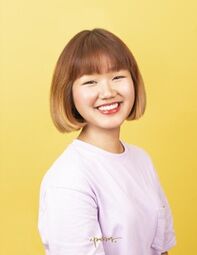 So Young Park (Sunny Park) is an international student who is attending as a first-year UBC Vantage College student. She is born and raised in South Korea but graduated high school in the USA. Then, she decided to move to Canada for her college education.
So Young Park is currently a brand ambassador for a small business shop on Instagram. The shop has over about 5K followers. She also won a best actress awards in her high
school from that play, "Death by Dessert". She is looking forward to major in psychology and to become a psychiatrist.
Renne Zhang
Qianhui Zhang (Renee Zhang) is a first-year international student who is currently at University of British Columbia Vantage College. She is born in Japan because of her family, and raised in China, and she graduated high school at Shanghai then went to Canada for university.
Renee Zhang is currently a youtuber about music and she covered a lot of songs. She was operating a coffee shop and created a rock band in her high school, and had won a lot of talent shows' awards.
Brief introduction of our study
The purpose of this survey is to investigate how international UBC students think about the mass purchasing of clothes and its effects on environment. This study will benefit us to have a deeper understanding of the people consuming excessive amounts of clothes and how much international students are concerned about the environment.
Website Component
Podcast File:VANT149 Team37 Podcast.mp3