Course:PHAR/CAPS4/Library
Keeping Current and Accessing Research in Practice

This wiki page is a resource list for keeping current with research, for students in PHAR 499 and alumni. Once you're in the workforce, you may not have access to the same information resources as you had at UBC. However, you can come in person to any UBC Library branch to get guest access to most journals and databases.

Additionally, your alumni card will give you access to some full text journals - details here.

PubMed and Google Scholar are free ways to search the journal literature, and an increasing number of articles are freely available.

You can also contact Woodward Library with questions; or the DPIC's Drug Information Line (for BC health professionals - not for the general public)



PubMed and Related Resources
PubMed - The US National Library of Medicine's free interface to the MEDLINE database. PubMed is great for quick clinical searching and for finding open access articles.

You can filter your search in PubMed to free full text, and can limit by publication type such as systematic reviews.
Always check the Details box (on the right side of the screen) to see how PubMed has interpreted your search terms. PubMed tries to match the keywords you search for with relevant MeSH terms (Medical Subject Headings) to improve the quality of your search. The Details box shows you which exact terms were searched - and you can edit your search from there.
For further information on searching for pharmaceutical literature in PubMed, please see the excellent Tutorial on PubMed Searching for Drugs or Chemicals.

You can sign up for an NCBI account in order to receive email alerts based on specific searches. The NCBI account also lets you follow articles from journals of interest through the new PubMed Journals service.
See this YouTube video on signing up for email alerts:
Tutorial on NCBI accounts - This brief tutorial presents account registration, the MyNCBI homepage, and site preferences.

More useful resources from the National Library of Medicine include:
Clinical Practice Guidelines
Critical Appraisal

Critically appraising any health information is essential. Ask questions about:
Who authored the information? Have other professionals reviewed it?
What biases might they have? Have they taken steps to limit bias?
Is the methodology used appropriate?
When was the last update?

Here are some tools for appraising the literature you find:
Website appraisal tools:
In Web Literacy for Student Fact Checkers, author Mike Caulfield identifies "four moves" for evaluating claims found on the web:
"Check for previous work: Look around to see if someone else has already fact-checked the claim or provided a synthesis of research.
Go upstream to the source: Go "upstream" to the source of the claim. Most web content is not original. Get to the original source to understand the trustworthiness of the information.
Read laterally: ...Once you get to the source of a claim, read what other people say about the source (publication, author, etc.). The truth is in the network.
Circle back: If you get lost, or hit dead ends, or find yourself going down an increasingly confusing rabbit hole, back up and start over knowing what you know now. You're likely to take a more informed path with different search terms and better decisions."
Other useful tools for evaluating information on websites include:
Critical appraisal resources for patients:
Point of Care and Drug Information Apps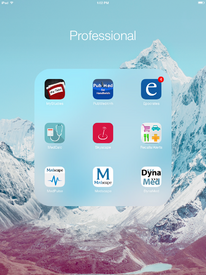 Point of Care Tools
Dynamed - UBC and many health authorities have a subscription; otherwise, personal subscription required. Evidence based synopses updated daily. Drug information from AHFS DI Essentials.
BMJ Best Practice - UBC has a subscription. After graduation, personal subscription required.

Selected Drug Information Apps
Twitter and RSS Feeds
Twitter is an excellent way to follow breaking news and engage in dialogue with your peers. Many professional associations, journals and blogs offer useful Twitter feeds, notifying you of latest publications:

RSS feeds are another way of keeping up with information from a mix of sources, such as journal websites and blogs. Your browser may have a built in RSS feed reader, or you can use a tool such as Feedly to follow news feeds.
A popular app for keeping track of new journal articles is Vancouver-based Read by QxMD. It works best on mobile devices, and collects new articles from journals or topics you follow. While at UBC, you can set it up to download subscribed PDFs with one click.
Other News Sources

Podcasts and video series
Contribute
Wikiproject Medicine and Wikiproject Pharmacology Initiatives to improve the quality of medical articles on Wikipedia. UBC Medicine clinical faculty member James Heilman has been heavily involved with Wikiproject Medicine. Easy ways to get involved include adding references to articles and expanding on content in stubs.
Wiki Journal Club Articles here provide key information on landmark trials.
Cochrane Task Exchange Cochrane authors can seek assistance here with translation, screening, and other tasks.