Course:GEOG350/ST1/Vancouver Chinatown
Introduction
Vancouver's Chinatown is an important neighborhood to the city as it embodies a valuable and extensive history that stretches back as far as 1890 [1]. Located in the heart of the Downtown East-Side (DTES) community, its boundaries are defined by "Hastings Street on the north, Union Street on the south, Gore Street on the east, and Carrall Street on the west," [2].
Surrounding neighborhoods that together form the DTES community include Gastown, Victory Square, Strathcona, the industrial land region, Oppenheimer, and Thornton Park. The DTES is one of the oldest districts in Vancouver with "approximately 500 buildings currently listed on the City's Heritage Register, accounting for nearly 20% of all the buildings" (DTES Local Area Profile 2012, 20 July 2013). There is a unique character and array of "historic buildings, public spaces, street features, public art and homes depicting a long history of growth, change, decline and transformation" (DTES Local Area Plan – Planning Framework, 20 July 2013). Commonly referred to as "Canada's poorest postal code" (thestar.com, 20 July 2013), the City of Vancouver and the DTES Local Area Planning Process (LAPP) Committee along with other organizations and social groups are working tirelessly to revitalize and tackle the numerous social problems that have hampered what was once a flourishing business district. In such a diverse city, Chinatown offers residents and tourists a glimpse of Chinese culture; and as "North America's third largest Chinatown by population, after those in San Francisco and New York," [3] it is apparent that this cultural heritage center is still significant for many Chinese citizens and immigrants.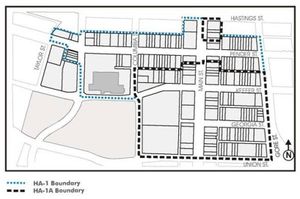 The Chinatown historic area is divided into two zoning districts, the intent of which is to encourage preservation of early buildings in Chinatown while also recognizing the needs of the community and the evolving activities that make this district an asset to the city. The resulting changes and development can then enrich and protect Chinatown's sense of place. Shown in the figure to the right are the zoning boundaries within Vancouver's Chinatown. HA-1 zoning provides guidelines aimed at protecting heritage properties, a majority of which are spread along Pender Street; HA-1A is the remainder of Chinatown. The maximum building height allowed for HA-1 District is 15.3m and 27.4m for HA-1A. However, upon approval by the Development Permit Board or the Director of Planning, maximum height can be increased up to 22.8m. All buildings that are to be built, altered, or apply addition to will need to comply with the intent of the zoning by-laws and also the approval of the Development Permit Board or the Director of Planning (HA-1 and HA-1A Districts Schedule, 20 July 2013). These height restrictions often hinder gentrification of neighborhoods as it disallows large scale developments that are similarly taking place in the nearby central business district.
Commute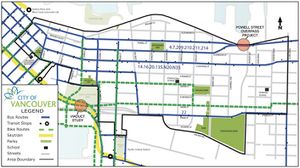 Chinatown is conveniently located in close proximity to Vancouver's downtown core and is quite easily accessible from many modes of transportation including the Skytrain, bus, bicycle and of course, vehicle. Several bus lines run either through Chinatown or along its boundary streets. As well, walking and bicycling are the most 'green' forms of transportation; simply follow The Silk Road banners (along Pender St.) from Downtown Vancouver Public Library and you will arrive in Chinatown, approximately 15 minutes later, as you see the Millennium Gate on West Pender Street. The Silk Road was designed to promote movement between neighbourhoods and make Chinatown a more attractive place to visit. As demonstrated on the map provided, there are bike routes along Union Street, Keefer Street, Main Street, Quebec Street, and Carrall Street [4] that provide a scenic and safe method to commute within the busy downtown area. However, travelling by car does appear to be a popular method of transport in Vancouver; in order to accommodate this there are 6 parking lots, both indoor and outdoor within the area, and also meter parking along the streets in Chinatown.
Skytrain
The address for The Stadium-Chinatown Station is 590 Beatty Street. It serves both the Expo Line (travelling east bound towards Surrey) and the Millennium Line (travelling east bound towards East Burnaby). There are two street level entrances to Stadium-Chinatown Station, they are the Beatty Street entrance (West), and Expo Boulevard entrance (East). Launched in 1986 (http://www.vancouver.hm/skytrain.html), the rapid transit line has served as a viable mode of transportation in and out of Vancouver's downtown and has allowed for greater access to sites of interest such as Chinatown.
History
Vancouver's Chinatown was established by the hard work of immigrants "who arrived to work on B.C.'s railroads and in the mines, were settled in a ghetto on the edge of the city" [5] and with time grew to become a prosperous and self-sustaining business district. However this did not come easily, after years of risking their lives many were still treated as second class citizens and racially discriminated against. "They struggled through the head tax, personal attacks and job discrimination. But the Chinese in Canada persevered. And today, Chinese-Canadians are an integral part of Canada's multicultural society, forging their own cultural identities," [6]. Chinatown embodied an identity of a cohesive neighborhood that brought the community together and defined the area.

"Between 1890-1920, early Chinese immigrants settled in what was known as Shanghai Alley and Canton Alley. By 1890, Shanghai Alley was home to more than 1,000 Chinese residents," [7]. "The population of Chinese in Canada stood at 4,383 of which 4,350 resided in British Columbia. . . in the early 1880s" [8] which had a significant impact in the development of Vancouver's Chinatown. The effort made by residents and business owners to maintain tradition throughout this neighborhood can be seen on every street as there are distinct and alluring markets, gardens and restaurants from one end to the other. As well, the prevalence of foreign symbols and writing entice visitors with an exotic feel in the middle of a bustling modern city.
Demographics
"Chinatown remains a popular tourist attraction, but was more recently overshadowed by the newer Asian immigrant business district along No. 3 Road in the Vancouver suburb of Richmond. Many affluent Hong Kong and Taiwanese immigrants have moved there since the late 1980s, coinciding with the increase of Chinese-ethnic retail and restaurants in that area. This new area is designated the 'Golden Village' by Tourism Richmond," [9].
"Vancouver's Chinatown is one of the largest historic Chinatowns in North America. However, it went into decline as newer members of Vancouver's Cantonese Chinese community founded a new retail area centered around Victoria and 41st Ave. in the 1980s and 90s to cater to a more suburban population. Today this is the largest Chinese Canadian neighborhood in greater Vancouver," [10].
Heritage Buildings & Sites
Throughout Vancouver's Chinatown are numerous buildings and sites that are lasting symbols of the area's history. As designated by the Vancouver Heritage Foundation, there are a total of 21 identified heritage buildings or sites. Below are a few examples from The Vancouver Heritage Foundation website that are of significant historical importance to the community.
Chinatown Millennium Gate
Pender Street @ Taylor Street:
"Situated at the historical origin of Chinatown, the Millennium Gate opened in 2002, funded by three levels of government and private donations. On its eastern face, the gate says 'remember the past and look forward to the future'; while on the western face it says 'Chinatown Millennium Gate.'" [11].
China Gate
50 E Pender St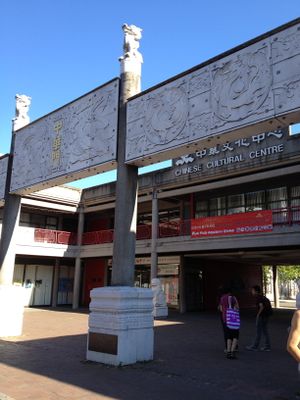 Chinese Freemasons Building
3-9 West Pender Street:
"The Chi Kung Tong, a traditional Chinese fraternal organization, first appeared in Canada in 1863 to provide welfare assistance to miners in the Cariboo gold rush. Built in 1901, the Chi Kung Tong purchased this building in 1907. The Chi Kung Tong changed its name to Chinese Freemasons in 1920, in order to forge links with European Freemasonry. This building is the perfect headquarters for an organization that sought to form bonds with Europeans because of the way the structure blends the Chinese and Western traditions of architecture. The Pender St. façade, facing Chinatown, has traditional Chinese recessed balconies and ironwork. The Carrall St. side of the building faces the entrance to predominantly Caucasian Gastown and presents a Victorian Italianate façade. The Freemasons supported Dr. Sun-Yat Sen's attempts to bring democracy to China. During visits to Vancouver to increase support and raise money for his cause (in 1910 and 1911) Dr. Sun-Yat Sen was hosted by this society. The building was even mortgaged to fund Sun-Yat Sen's 1911 rebellion." [12].
Lim Sai Hor Benevolent Association
525-531 Carrall Street
"This building was originally constructed in 1903 for the Chinese Empire Reform Assoc., whose focus was to bring about political reform in China. It was the most influential association in Chinatown at the time. Their influence faded when China fell into revolution in 1911 instead of reform within the Imperial framework. They owned the building until 1945 but rented it to the newly formed Lim Sai Hor Assoc. in 1926. The Lim Sai Hor Assoc. finally bought and extensively renovated the building in 1945. Its recessed balconies identify it with South Chinese architecture, but much of the original detail disappeared in the 1945 renovation. It is one of the only original structures remaining in Shanghai Alley. It's frontage on both Carrall St. and Shanghai Alley provides a glimpse of how the neighborhood looked in the earliest days of Chinatown. The building is home to an ancestral altar, built in 1993 which is used for commemorative ceremonies by society members," [13].
Sam Kee Building
8 West Pender Street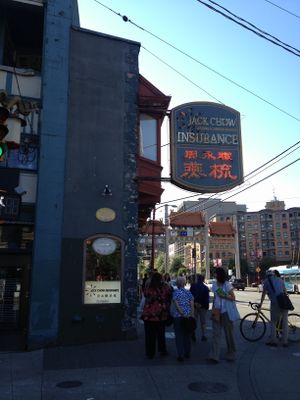 "An act of defiance in 1913 resulted in the construction of this 6'2" (1.8m)wide building. To widen the road,the city expropriated land on Pender St., demolishing Chang Toy's grocery warehouse and leaving him with a narrow strip of land. No compensation was offered and the furious Toy, rather than sell his prime location cheaply to his neighbour, hired architects Brown and Hillam to design a building for the site. They designed for him a building of steel-frame construction with a series of bay windows which increase parts of the usable width of the upper floor. The basement, running the length of the building and extending under the sidewalk to double the square footage, housed public baths. The section under the sidewalk was lit with prisms which have been replaced by glass blocks set in the pavement. This was a common way to augment lighting in basements prior to the improvement in electric lighting. The building was restored in 1986 by the current owner, Jack Chow and architect Soren Rasmussen." [14].
Dr. Sun Yat-Sen Classical Chinese Garden
578 Carrall Street
"This classical garden, named for Dr. Sun-Yat Sen , was the first of its kind outside of China. Designed by Joe Wai and Don Vaughan in 1986, it is a re-creation of a Ming dynasty scholar garden. Unlike the western garden tradition, which tries to impose order on nature, Chinese gardens seek harmony between the man-made and natural worlds. They are landscapes in miniature; each element believed to encourage a different immortal spirit to inhabit the garden. The cloudy water symbolizes tranquility; the zigzag paths deter evil spirits and the controlled interplay between water and sky (yin and yang) promotes good health and longevity. The garden subtly conceals then reveals views, allowing the visitor to enjoy the relationship of parts to the whole. The organization and placement of structures within gardens developed into the science of feng shui. Access to the public area of the gardens is off Columbia St." [15].
Carnegie Community Centre
"401 Main Street"
Mah Society of Canada
137-139 East Pender Street
"The Mah society was informally established in Vancouver in 1919 and purchased its building two years after. Constructed in 1913, it has retail space at grade, and 3 floors for 39 rental rooms above. Like other successful clan associations, the Mahs used rental income to finance most of their operations. Unlike others however, it rented out to non-members as well as members. Because it housed both North American headquarters as well as a local branch, an additional floor to accommodate a meeting hall was added in 1921. Its recessed balcony is the only reminder of an elaborate traditional Chinese design. The additional story, which bears the Society's name at the top, also increased the status of the building by making it the tallest on the block. In recent years the Mah Society has undertaken new activities, the most notable of these being the sports club." [16].
Chinese Nationalist League of Canada
529 Gore Street
"The architecture of this building, designed by Scottish architect W.E. Sproat for the Kuomintang (KMT) in 1919, is similar to many structures in Hong Kong and Macau. Observe the enclosed recessed balconies on the top floor. However, its significance lies in the political life and aspirations of the Chinese community. For year before the building's construction, the KMT worked to raise money for the overthrow the Qing Dynasty and bring democracy to China. Chinese in BC, who had few rights in Canada whether they were new immigrants, naturalized or born here, hoped that a democratic China would help their situation here. Dr. Sun Yat-Sen, the international leader of the KMT became the provisional leader of China in 1911 when a revolution was finally successful. His time as president lasted only until 1913 when infighting in the leadership led to Sun's exile." [17].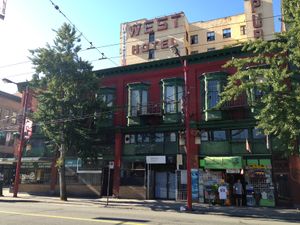 Chinese Times Building
1 East Pender Street
"The Chinese Times Building was contructed early in 1901 by Wing Sang, a local businessman. From 1939 until the early 2000s, the largest of Vancouver's several Chinese newspapers was published in this unassuming building. It used to be that one could watch the printing presses through the ground floor windows with their 5,000 different Chinese characters at work." [18].
Other Amenities
International Village Mall (88 W Pender St)
Pigeon Park Savings (92 E Hastings St)
Pigeon Park Savings is a partnership between Vancity Credit Union and PHS Community Service Society to provide basic banking, and other critical social services to residents for those who would normally be turned away because they are without an ID or a fixed address. "It offers a simple account that includes unlimited transactions, counter cheques, bill payments, direct deposits and money transfers for a $5 flat monthly fee. First time clients drawing welfare benefits are able to use photocopied personal identification verified by their welfare office" (cucentral.ca, 28 June 2013). Once a Bank of Nova Scotia, now it is staffed with retrained PHS employees to help the 4,000 members and more for when they are in need. (macleans.ca, 28 June 2013).
Issues
This neighborhood within Vancouver acts as a symbol of the struggles and triumphs that many Chinese immigrants have endured. As such, the long tumultuous past of this landmark area with its abundance of heritage buildings is in greater need of preservation and protection as local businesses, the key to the community's success, continue to decline. Since the 1980's, competing spheres of culture and economics have been influencing immigration patterns in the lower mainland [19]. Also around this time, the heart of Vancouver began shifting to the west resulting in fewer middle/upper class people coming from the suburbs to visit the DTES. Currently, there is a trend of shifting demographics from the downtown core to nearby suburbs; for example, from Vancouver to Richmond's 'Golden Village'. "Richmond, south of Vancouver, has developed into a vibrant and affluent business and residential enclave for middle-class Chinese," [20]. Although the increased cost of living can be assumed to be the leading reason for why many are choosing to relocate outside of the city, but also the economic hardships and community conflicts play a role as well. The location of Vancouver Chinatown has been essential to the areas growth with its proximity to the downtown core however the decline of surrounding areas have also impacted local businesses. For example, the neighboring Downtown Eastside (DTES) of Vancouver is notorious for being one of the most poverty stricken areas in Canada and this closeness may have negatively impacted prospective redevelopment in Chinatown. Moreover, a culmination of the past 100 years of political, social and economic change and struggle have defined and transformed this neighborhood. In order to reignite interest while maintaining heritage it is important to understand the route issues that are threatening the future of this historic community. The efforts to preserve Chinatown is an example that "Heritage" not only reminds us of the contributions it has made to the community identity but also, regardless of the DTES current reputation there is public memory still worth preserving in the area
Revitalization
On June 29, 2011 A public workshop was held to launch "a short-term economic action plan development process and to get input from local residents, businesses, and the public" [21]. The following autumn, "Chinatown received the National Historic Site designation from the Minister of Environment," [22] attracting more positive attention to a historical neighborhood in need of community support and redevelopment. The City of Vancouver has made clear that "the purpose of the Chinatown revitalization project is to preserve Chinatown's unique heritage while bringing new life to the community," [23]. Therefore, heritage is not just about past significance, but also about linking past and present; through restoration of historic buildings for new commercial and/or residential use this can be accomplished.
Fortunately, this once bustling and prosperous hub for Chinese-Canadians within such a diverse city endures despite lower population and prosperity inflows compared to that of its recent past. There is much effort by the City of Vancouver and local business owners to create action plans to redevelop the area in an attempt to attract more businesses and visitors. As well, several other neighborhoods throughout the Greater Vancouver area continue to go through a process of gentrification and Chinatown associations such as the Vancouver Chinatown Business Improvement Area Society are responding with increased development in attempts to reverse declining business [24]. Although redevelopment seems to be the leading action plan to revitalize the neighborhood, it is still necessary to restore and protect significant places and spaces that have helped shape Vancouver's Chinatown. The plethora of heritage buildings and historic spaces within Chinatown are in great need of reclamation and preservation as these are the places that symbolize the history of the neighborhood. The collective positive memory of the past can be used to create a positive identity for the future; heritage in a sense is the utilization of the past to create a new future.
References
Group Members
Danielle Russell & Alwin Au