Course:GEOG350/2012WT1/Downtown Core
Introduction
Since the Fordist era, many cities, including Vancouver have been designed and constructed tailored to the needs of vehicular traffic, but recently, demand from residents has been on the rise for a more cycle and pedestrian orientated Downtown Core, which the City of Vancouver appears to acknowledge by implementing new plans.[1] Many of the City's proposed traffic infrastructure plans indicate a movement away from vehicle-based transportation within the downtown core, instead giving preference to walkability and cycling infrastructure. For example, the City has recently increased the number of bike lanes in the Downtown Core, such as on the Dunsmuir Viaduct, and has both temporarily closed the 800 block of Robson Street and routinely closes parts of Granville Street for pedestrianization, at the expense of roadways for personal vehicular traffic. The loss of this space for personal vehicular traffic has caused much discontent among motorists. This report will explore the impact in the Downtown Core of two specific traffic related plans proposed by the City of Vancouver: the public bike share system and the viaducts project.
Neighborhood Analysis
Location
The Downtown Core is located on the Burrard Peninsula with Main Street as its eastern border, Burrard Street its western border, False Creek its southern border and the Burrard Inlet as the northern border. This area comprises the neighbourhoods of Yaletown, Gastown, and part of the financial sector with the West End Community on its western border.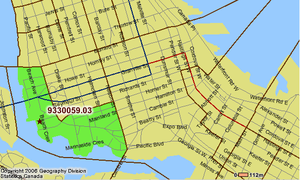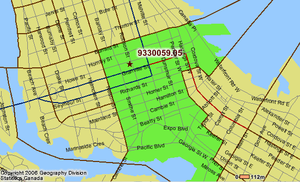 History
The history of the Downtown Core neighbourhood began when the Canadian Pacific Railway (CPR) announced Vancouver would be the railway's terminus, the town's population was about 400. Four years after the railway arrived, it was 13,000. Incorporation came on April 6, 1886.[5] The extension of the CPR line to Vancouver from Port Moody would greatly influence the character of the city. As part of the arrangement with CPR, the province of British Columbia granted CPR 6,500 acres. The immense task of planning all this land fell upon CPR chief surveyor L.A. Hamilton; he had to choose the appropriate site for rail lines, freight yards, station, wharf and fit it within existing street patterns. The placement of these facilities along Granville St. would establish this street as the centre of Vancouver as this street would eventually be extended all the way to Richmond. Around the CPR facilities, businesses developed that served the railway and land was set aside for rail use such as the False Creek area. Furthermore, as the majority landholder in the City of Vancouver, officials would have to negotiate with the company for land to build schools, hospitals and other public amenities. Early city politics and design were dominated by this relationship.[6] As the City developed, this relationship diminished, but the impact of the CPR on the downtown is evident. The Downtown Core has adapted to meet the needs of the time as the history of the neighbourhood has demonstrated and hopefully this trend will continue in the future as city development changes traffic usage and patterns.
The shape of the Downtown Core took on some of its present characteristics when the first Georgia Street Viaduct was built between 1913 and 1915. The narrow structure included streetcar tracks that were never used. It was a poorly built structure that over the years threatened pedestrians below with falling pieces of concrete. It was replaced in 1972 by the current viaduct, which is structurally separated and contains three lanes for each direction of traffic. The replacement of the viaduct in the 70's reflected the persistence of planning for the automobile.[7]
The current Georgia Viaduct was planned in the early 1970's as part of an extensive freeway system for the city. However, communities were opposed to the idea of demolishing structures to build the freeway system and the plan was stopped. The freeways would have required demolishing buildings in neighborhoods including Strathcona, the Downtown Eastside and Chinatown. The City was left with an incomplete highway that shadows over questions of development in the area to this day.[8]
In the late 1970's and 1980's, the Downtown Core underwent a series of changes from an industrial rail yard to a neighborhood for a new generation. Young urban professionals were attracted to old warehouses in. The new community became known as Yaletown. Over the years, Yaletown went through many phases such as: warehouse district, garment industry, and dot.com business hub.[9]
The changing usage of the Downtown Core spurred further development. Pacific Central Station located on Main St., replaced Waterfront Station as the main railway station in 1979, the latter was transformed into the terminus of SeaBus and the future SkyTrain, while the former continues to operate as the terminus station for VIA rail. Canada's first domed stadium, BC Place Stadium, opened in 1983. The SkyTrain, BC Place Stadium, Science World, Canada Place and the Plaza of Nations, were built for Expo 86. To serve the crowds of Expo 86, construction of the SkyTrain began in the autumn of 1982, with revenue service beginning December 1985. SkyTrain has since been added to four times, two minor expansions to the original revenue line in 1990 and 1994 as well as the construction of two additional lines, the Millennium Line and Canada Line, in 2001 and 2009. Construction of a fourth line, the Evergreen Line, to Coquitlam as well as retrofitting of the entire Expo Line are current projects as of 2012. The developments changed the traffic flow patterns of the area, and shifted the neighborhood usage patterns to becoming a hub for commuters who work in the downtown core.
The Expo Centre, later named Science World, is an educational centre with an OMNIMAX cinema. It opened May 2, 1986 and in late 1990, it opened to the general public as a science museum. BC Place opened June 19, 1983 and was also home to the 2010 Winter Olympic Games, in particular the Opening and Closing Ceremonies. SkyTrain's Stadium-Chinatown Station was built for this landmark in 1985, and has since served major sporting and concert events since 1986. In May 2010, the landmarks teflon roof was deflated, and was replaced with a new retractable roof, as well, overall structural upgrades and a complete interior design and makeover was completed. BC Place reopened on September 30, 2011 as the world's largest cable supported retractable roof stadium and has earned the nickname "Gordon Campbell's Crown", in honour of the former Premier who championed the retrofit.[10]
All these developments demonstrate the Downtown Core as a place that has had and has varied traffic usage. As the neighborhood has developed with condominiums, there is a local population that needs to be serviced with improved design. Traffic flows are changing with increased public transportation. The history of this neighborhood reflects the uses and needs of the time. As the downtown core is becoming more and more for the use of people instead of industrial and special events, the urban landscape needs to change towards how citizens use the space through efforts to improve walkablity and bike friendly urban design while balancing its use as a destination location for workers, commuters and tourists.
Demographics
The area of focus for study comprises four census tracts 9330066.00, 9330059.06, 9330059.05, 9330059.04 and 9330059.03 from the 2006 census conducted by Statistics Canada. The data from these four tracts has been combined and all figures mentioned below represent this amalgamation. Within these tracts live approximately 43370 people in 3.73 square kilometers according to the National Census of 2006. This gives a population density of 11627.35 people per square kilometer as compared to the entire Vancouver census metropolitan area (CMA) of 753.6 per square kilometer.
The median after-tax income of all census families in 2005 was $59,952 as compared to the Vancouver CMA of $56,577. Of the 40335 people that are above the age of 15, 21485 (~53%) were never legally married (single), 12750 legally married (and not separated), 1270 separated but still legally married, 3630 divorced and 1195 widowed. Of the 1770835 people above the age of 15 in the entire Vancouver CMA, 603690 or ~34% were single and 891530 or ~50% were married. These statistics present this community as a dense, affluent, and young neighbourhood.
Table 1.1 Visible Population Characteristics:
| Visible minority population characteristics | Population | Percent |
| --- | --- | --- |
| | 42565 | |
| Total Visible Minority | 16850 | 39% |
| Chinese | 7480 | 17.6% |
| South Asian | 1145 | 2.7% |
| Black | 595 | 1.4% |
| Filipino | 950 | 2.2% |
| Latin American | 855 | 2% |
| Southeast Asian | 405 | 0.9% |
| Arab | 390 | 0.9% |
| West Asian | 1865 | 4.4% |
| Korean | 1460 | 3.4% |
| Japanese | 965 | 2.2% |
| Visible Minority; n.i.e. | 110 | 0.2% |
| Multiple visible minority | 595 | 1.3% |
Table 1.2 Primary Mode of Transport for residents:
Primary mode of transport
Population
Percent
Total employed labour force 15 years and over with
a usual place of work or no fixed workplace address
22850
Car; truck; van; as driver
8590
37.5%
Car; truck; van; as passenger
725
3.17%
Public Transit
3805
16.6%
Walked or bicycled
9170
40%
All other modes
545
2.4%
Table 1.2 clearly demonstrates that people who do not use their cars outnumber people who do in this neighbourhood. It is not important whether this is a result of living downtown, or personal economic situations but it supports the idea of creating a neighbourhood that can service this community through effective urban planning. However, the 2006 Census Data from Statistics Canada can only go so far to describe the usage patterns of the Downtown Core neighbourhood because it only tracks people that live in this area, not those that commute to the core for business or pleasure.
Balancing Traffic Usage
With space at a premium, balancing the future development in the Downtown Core between vehicular, pedestrian and cycling traffic is a difficult task. Indeed, compromises need to be made such as adding more room for one type traffic means the reduction in space for another type of traffic. The following list is the City's prioritization of traffic in the Downtown Core and much of Vancouver (ranked from most to least important):
Walking
Cycling
Transit
Taxi/Commercial/Shared
Private Auto[1]
Getting the right balance is important for health, safety, accessibility, quality of life and affordability. If traffic does not flow efficiently, productivity is lost, thus wasting an important resource, the people of the area. Currently the City of Vancouver estimates that the traffic in Vancouver as a whole comprises 17% walk/bike traffic, 25% transit and 58% vehicle.[1] Since 1997, the population of the Downtown Core has increased by 75%, the number of jobs has increased by 26% but the number of vehicles entering the Downtown Core is down 20%.[1] Preliminary information published in Vancouver's 2040 Transportation Plan suggests Vancouver aims to have pedestrian, cycle and transit traffic account for 50% of all traffic by 2020 and near 67% by 2040.[1] This strong emphasis on different modes of traffic other than simply the private automobile is important as the population of the Downtown Core is expected to continue to grow at a high rate. Fewer vehicles in the Downtown Core would create a safer, healthier and more inviting space. Furthermore, decreasing the convenience of the private automobile would encourage more people to use transit, thus increasing transits revenue and allowing them to sustain a higher level of service for the neighbourhood.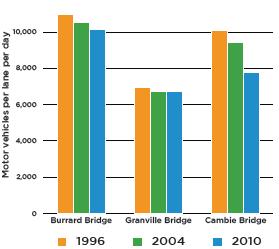 Furthermore, the appropriate balance and planning of traffic increases the safety and well-being of all commuters. As the adjacent chart illustrates, pedestrians, cyclists and motorcyclists are involved in only 3% of collisions, yet they account for almost 60% of the fatalities. In these accidents, pedestrians had the right-of-way in over 80% of collisions with motor vehicles (2005-2010).[12] With proper planning of transit routes, many of these accidents could be avoided. On top of preventing injuries and saving lives, safer pedestrian and cyclist routes would encourage more people to walk and cycle. Of course, reducing the number of personal vehicles on the streets would also make commuting for all forms of traffic safer.
In attempting to balance the different forms of traffic, space in the Downtown Core needs to be closely analyzed for underused space to determine how this space can help overly congested areas. For example, the traffic on the three bridges into the Downtown Core are showing declines in vehicular traffic since 1996, as illustrated by the chart to the left, which was produced by the City. The City has explored the idea of reallocating two of the eight lanes on the Granville Street Bridge into cycling and pedestrian paths and believes it can be done at a relatively low financial cost.[1] If the traffic continues to decline on this bridge, than this would likely be a great way to utilize underused space. However, this plan would be sure to get some rather vocal feedback from motorists who use this bridge every day. This is just one of the issues within the neighbourhood that will affect how people move in the area. For the purposes of this project, it will not be explored in detail, but is worth further research.
Challenges and Issues
Two issues in this neighbourhood will be examined in detail below: the proposed Bike Share program and demolition of the Georgia and Dunsmuir Viaducts. These exemplify the challenges posed by City's plans to prioritize pedestrian and cycling traffic over vehicles.
Background
In a focused study of the Downtown Core, Dhaliwal determined that in relation to the role of a city's street, the types of amenities available were significant aspects.[13] Currently, the amenity that the city of Vancouver is hoping to implement in its Downtown core is a public bike share system.
In recent years, a culture of cycling has blossomed in Vancouver. With the addition and expansion of bike lanes in various areas of the city, such as along the Burrard Street Bridge, more people seem to be taking advantage of the increased convenience and sheer environmental benefits that cycling offers. These alterations to existing urban planning to accommodate cycling emphasizes that cycling is the fastest growing transportation mode, according to the City of Vancouver.[14] A shift away from the automobile as the primary mode of transport and a de-emphasis of the personal vehicle are evident in the city's overall transformative vision. In efforts to showcase commitment to leadership in sustainability, various city planning documents have recommended the implementation of a public bike share system, akin to ones currently in place in Montreal and Ottawa.
Description
Vancouver is planning to have 1,500 bicycles in the public bike share system, as well as to set up a network of bicycle docking stations within Vancouver's metro core, ideally with a station scattered every few blocks.[15] The bicycles would differ from typical bicycles in their construction as well as other enhancing mechanisms, such as features to withstand weather conditions and theft.[16] With such a system in place, this would allow residents of the area, for a fee, to utilize a collection of communal bicycles. This collection of communal bicycles would be privately owned and operated. This funding model is similar to that of many other cities with a public bike share system, where the initiative is privately owned and operated, and also "charge[s] user fees, and seek[s] corporate sponsors and contributions from private and public sources including the City of Vancouver".[15]
If this public bike share system were implemented, Vancouver would join other major Canadian cities that have embraced the practice. Montreal, for example, was the first Canadian city to institute a bike share system, known as the Bixi system, in 2009.[17] Stationnement de Montreal, the private company that oversees parking operations in Montreal, created the Public Bike System Company (now known as PBSC Urban Solutions) that designed and now operates the Bixi system.[17] The city's bike share system evolved from a sense of urgency to reduce negative environmental emissions as well as to curb automotive dependency. As a result of this environmental awareness, the City of Montreal published the "Reinvent Montreal" transportation plan, which featured a bike sharing system, highlighting cycling as an active mode of transportation that could be used as a viable method of reducing automobile dependence.[17] Like Montreal, Vancouver has published various environmental action plans, all of which focus heavily on transportation. In these action plans, cycling is regarded as crucial to any ambitious urban landscape transformations.
Analysis of Issues
The public bike share system is an initiative that clearly aligns with Vancouver's ambitions to be a leader in sustainable development and environmental consciousness. The Greenest City 2020 Action Plan addresses these ambitions with the civic goal of making active transportation choices, specifically cycling, feel "safe, convenient, comfortable, and fun for all ages and abilities".[18] Additionally, this corresponds with a main objective of Vancouver's Transportation 2040 Plan designed to make cycling an accessible and sustainable option of transportation.[1] The goal of the entire project is to encourage short-term trips, as well as to increase overall ridership.
Although focusing on a different area of Vancouver, Adam Cooper's analysis of a public bike system at the University of British Columbia is relevant to the discussions of such a scheme in Vancouver's Downtown area.[16] In addition to its environmental objectives, such a scheme is intended to "better integrate transit facilities within an urban network to achieve a higher overall level of mobility and efficiency."[16] The positive effects of such a system are argued to be numerous, ranging from individual to municipal, to societal and environmental. Cooper believes that such a program will have an "immediate and direct impact on public health, the environment, and generating social change".[16] Individual benefits of the public bike share system include the convenience and cost-effectiveness, as well as greater choices for mobility.[14] The public bike system offers the use of alternate means of urban transport, the bicycle, to citizens and tourists to the city. Municipal and societal implications of such a system would include: increased liveability and positive public image of the city, greater community and social interaction, as well as a shift in thinking about the allocation and use of road space.[14]
Initiatives such as the public bike share system, illustrate that the City is de-emphasizing the need for the personal vehicle. With such a push for a public bike system, it seems the city is pushing for viable alternative active transportation options so it can present to people a method of reducing automobile dependence. Nevertheless, however noble an idea, there are numerous detractors to the public bike share system, as well as to the City's broader initiative for the area.
The contemporary urban dilemma is this: to satisfy the need for mobility while simultaneously fulfilling the desire for healthy, alluring, and liveable place as well as cater to the needs of other sectors' needs and to other politics in the City.[19] Vancouver strives to be a global leader in sustainability and environmental awareness with initiatives that help boost its rank amongst the most liveable cities in the world. The City believes that initiatives like the public bike share system will help achieve both goals. Attempts to satisfy these needs and desires presented by the urban dilemma are inevitably met with opposition and backlash. Opponents to the public bike share system in Vancouver make similar evaluations and opinions regarding systems around the world, with the majority of detractors arguing that they provide "few benefits to the environment... [and] saddle the silent majority of Vancouver taxpayers who never use the program with a huge bill."[20] Critics point to Montreal's Bixi system, acknowledging that while it has won awards for innovation, they argue that its financial aspects are severely detrimental to the overall welfare of the municipality and its people. The city of Montreal has put up millions of dollars to keep the Bixi project, $37 million alone in the spring of 2011.[21] And while this is merely a loan, critics point to the program's potential financial instability, in addition to the high cost of capital, as reasons that may lead to the program's demise.
A further problem is BC's Bicycle Safety Helmets Legislation that requires cyclists to wear protective helmets. According to "Ceri Woolsgrove, road safety officer with the European Cyclists' Federation... cities with mandatory helmet laws tend to see fewer cyclists in bike-share programs compared with those that don't. Bike-share schemes in helmetless European cities, for instance, are flourishing."[22]
Recent developments
Undeterred by criticism and examples such as these, as of June 12th of this year, the City of Vancouver was involved in a "procurement process," which includes confidential discussions with a bike share enterprise based in Portland, Oregon. Baring successful negotiations with this vendor, City staff will report to Council this fall. If Council approves the contract and plans, the targeted launch date for Vancouver's public bike share system would be summer 2013.[15]
Eastern Core Strategy and the Removal of the Georgia St. and Dunsmuir St. Viaducts
Background
Another example of the City of Vancouver's shifting focus from vehicle traffic in the Downtown Core to cyclists and pedestrians is the Georgia and Dunsmuir St. viaducts proposal. The City is currently pursuing a new vision for its Eastern Core Strategy, which focuses on the elevated Georgia and Dunsmuir St. viaducts that connect the Eastern Core to downtown. Over the next 15 years, maintenance costs for these structures are predicted to be between $8 to $10 million and the City cites them as significant physical and visual barriers within the neighbourhood. The viaducts currently carry half of their designed traffic capacity during peak periods, and are remnants of the abandoned freeway system from the 1960s. These factors prompted a researched proposal that suggested demolishing the viaducts to replace them with one "super road" (see the current traffic flow pattern in Figure 1), park space, and up to 850,000 square feet of mixed-use development potential.[23] The plan is currently under discussion with a decision expected this fall.
The demolition of the viaducts creates a number of concerns for downtown vehicle traffic. In the feasibility study for the project, the Halcrow Group found that the viaducts carry 30% of vehicle movements in the eastern corridor of downtown.[24] The City expects the new proposed road off Pacific Blvd to have a capacity of 2135 vehicles per hour, in comparison to the 3000 that currently use the Georgia Viaduct and Pacific Blvd in peak afternoon traffic.[25] Despite this, the city maintains that the extra 900 vehicles per hour will be diverted with the broader road network within the downtown, and that there will not be a serious increase in traffic congestion.[25]
Conversely, bicycle and pedestrian traffic benefit from the plan, with a planned bridge connecting Dunsmuir Street to the expanded park, and a wide mall through the park from Carrall Street to False Creek and the Seawall.[26] The Dunsmuir viaduct already features a separated bike lane, and the City hopes the plan will support its Greenest City goal of green transportation.[23]
The City hopes to increase the useable land in the area from 22.25 acres to 25.25 acres by creating a park,[25] and increase mixed development opportunities including affordable housing.[26] The focus is creating a "green enterprise zone" with a focus on sustainable jobs, and reconnecting the Strathcona neighbourhood to False Creek and the surrounding area. [27]
Issues
There is a lot of debate surrounding these plans, especially with businesses, commuters and local residents. Commuters argue that the proposed changes in traffic will lead to longer commute times, and businesses like BC Place, are concerned about the effect on their customers.[26]
Some of the loudest opposition comes from the neighbourhoods adjacent to the area. The Strathcona Residents' Association argues that the demolition of the viaducts will result in an increase in traffic on Prior and Venables St., which already have high congestion levels.[28] The Association collected over 1000 signatures against the proposal in two weeks, staging a protest during the summer, saying they will only accept the project if the City agrees to create a concurrent traffic calming proposal in their area.[29] The City of Vancouver argues that traffic in the Strathcona area will not increase due to the project.[25]
Randy Shore also highlights some of the resulting issues from the proposal, including the decrease of community garden space because of the expansion of the Malkin Avenue truck bypass that accompanies the viaducts project.[30] While most of the opposition to the viaducts' demolition within the neighbourhood comes from motorists and business owners, there are other groups raising concerns about its impacts on the surrounding areas.
Precedents and Analysis
The City's determination to demolish the viaducts indicates what UC Berkeley City & Regional Planning Professor Robert Cervero describes as a paradigm shift to focus on livability over "automobility".[31] Vancouver is not the first city to demolish viaducts or freeways in exchange for park and pedestrian/cyclist space; cities like Seoul, Milwaukee, San Francisco and Paris have adopted similar policies.[31] Paris created its "Paris-Plages" (Paris beaches) along the Georges Pompidou expressway next to the Seine River for two months each summer, creating "a recreational space for low-income residents who cannot afford a holiday."[32] Recently, the project received approval as a permanent project throughout the year.[33] Mayor Gregor Robertson shows a similar desire in the viaducts' demolition as Paris' Mayor, Bertrand Delaoë, who pursued Paris-Plages to reclaim its space for the city's residents, not cars.[33]
Many of the City's documents do not provide specific information about how they will ensure the housing the plan creates remains affordable. As Kang and Cervero note, improvements to public space like this often have the goal of "attracting professional-class workers to reside in central cities."[34] This appeal to the creative class is also seen through the City's wish to focus on "green economies," a growing and popular industry, especially for young workers. With an increase of creative class in the area comes gentrification, an issue that the neighbouring areas of Strathcona and the Downtown Eastside already struggle with. If the proposal goes through, the neighbouring residents could face rising land values within 500m of the new park corridor, as Seoul did with the transformation of the Cheong Gye Cheon elevated freeway into an urban stream and green corridor.[34]
This project is also an example of the City marketing itself to attract professional workers back to the city centre. Cervero notes that each city must find "a balance between the objectives of transportation infrastructure as a service and community place-making."[31] This struggle is epitomized by the concerns and needs of both the motorists and the Strathcona community members. While Vancouver attempts to attract professionals back to the city centre and continue to brand itself as the "Greenest City", it must find solutions for current residents who struggle with the high cost of living, and transportation challenges.
Next Steps
As Mayor Robertson was quoted in the Vancouver Sun, "this is a big, big decision for Vancouver and the future of the Eastern Core".[35] While this proposal fits with the City's Transportation 2040 Plan, the challenge they face is convincing business owners and vehicle commuters to change the way they move around the city. The City will also need to be cognizant of the project's effects on neighbouring communities that it hopes to unite, especially with an increase of creative class residents and gentrification.
Policy Recommendations
None of the issues discussed above are isolated from other areas and issues within the City of Vancouver and its networks.
In order to adequately address some of the underlying issues brought up by the bike share system, the removal of the Georgia and Dunsmuir Viaducts and the movement towards de-vehicularization in the Downtown Core, there are three recommendations that the City should consider.
a) Make Conditions Financially Sustainable
As one of the major concerns with the bike share program is its financial sustainability, the City of Vancouver will need to ensure there is enough incentive to use the bike share program, especially for those who are not currently cyclists.
In a detailed study of 1,402 adults in Metro Vancouver, the Cycling in Cities Research Program found that the "near market" for cycling, or those that are most likely to increase the number of bicycle trips they take, represent approximately 500,000 adults in the region or 31%.[36] This study also found that the best route types to encourage cycling were paved off-street bike paths, residential streets with traffic calming and separated cycle paths next to major streets, as can be found on Dunsmuir St. and a few others in the Downtown Core.
To capitalize on the "near market" cyclists, "the most desirable routes - those separated from traffic - should be the focus of development,"[36] something which the City should continue in the Downtown Core, and consider for expanding the cycling network to surrounding areas. The improvement of these features could attract more people to the cycle in the area, and use services like the bike share program.
b) Make Safety a Priority
Safety is an important aspect of the success of the bike share system. The City's Helmet Law is also worth addressing in this context. As with any place intending to implement a bike share program, there are numerous legal, policy, and regulatory concerns, particularly those associated with safety, which need to be addressed. Ensuring that those using the bike share program remain safe is a primary concern, as well as designing an environment for cyclists that is safe and attractive to use.
In attempts to uphold safety, the City of Vancouver has laws which provide a structure within which cyclists can ride safely, like the helmet law. [37] However, Vancouver's mandatory helmet law can be seen as a great challenge to the success of a bike share program in the city. Intended as a safety precaution, there are those who are worried that this law could, from an economic perspective, be detrimental to the program. Concerns of low ridership because of the law had led many movements of dissent toward the law to emerge. [38]
A policy recommendation to combat this issue could be for the City to subsidize helmets. Affordable or even free helmets could be provided for those with vouchers with bike share memberships, or they could be provided to those without memberships at lower rates at businesses within the bike share usage zone. This implementation has the potential to make complying to the helmet law easier for riders, and it does so while also still encouraging the bike share program. Seattle also has had to deal with legal frameworks surrounding helmet compliance. In a report analyzing the issues plaguing their bike share system, there is a recommendation which would also be applicable in addressing Vancouver's issues. This recommendation is to consider signing a contract with a low-cost helmet manufacturer who would mass-produce helmets and would make them widely available at businesses within the bike share zone. [39]
Another perspective about Vancouver's mandatory helmet law comes from HUB. HUB is a charitable organization whose goal is to improve cycling by way of collaboration, events, and education. This organization is making marked strides in highlighting cycling as an enticing option for everybody in Metro Vancouver. HUB encourages use of helmets by all cyclists, but does recognize an adult's right to freely decide this on their own. HUB's believes the "over-emphasis of helmet use is detrimental to addressing important cycling safety issues" [40] An alternative or conjunctive policy recommendation could be for the bike share program to work together with HUB. HUB already has such a good reputation in the city that the proposed bike share program would benefit from associating with the organization's goals of improving and encouraging cycling in the city.
c) Make Cycling Routes Desirable
For future policies, the cycling network downtown must be complete with cycling routes that are beginner-friendly. The challenge is to design an environment for cyclists that is both safe and desirable to be utilized as routes. A Metro Vancouver cycling research study found that cycling can be encouraged by implementing specific design features and route designs. [36] Examples of design features described in this study that encourage cycling (and that could be implemented in the Downtown area) include: bike routes with scenery and that are away from pollution; clearly marked lanes that separate bikes from heavy traffic; few slopes; as well as the feasibility and option to bring bikes onto transit. [36] Additionally, certain route designs encourage cycling use. There needs to be specific policy recommendations for residential and major streets, as well as off-road paths. For instance, residential streets should be marked for cycling, major streets should have barriers to separate automobiles and bicycles, and paths should be paved. [36]
These route designs and design features are initiatives that would encourage cycling in the Downtown Core. These implementations could be the amenities needed to convince more people to use this mode of transport. Furthermore, the cycling environment would be optimized for riders, and thus, the bike-share program would benefit from these policy recommendations that would make cycling routes desirable to use.
2. Adequately Educate and Consult Motorists and Areas Adjacent to the Eastern Core About the Effects of the Viaducts Removal
The removal of the viaducts will significantly impact how motorists enter the Downtown Core from the East. While the City predicts that there will be no significant increase in congestion, there likely will be a period where motorists adapt their usual routes to the Downtown, or transition to alternate forms of transportation. This affects not only residents in the immediate area, but also those who travel through it and live in adjacent areas as traffic patterns change. It is also important to note that there are no direct Translink services that serve the viaduct routes East to West, aside from the existing Millennium Skytrain line, leaving motorists with the options of changing their vehicle route, cycling, or walking if they live in the area. In order to ensure a smooth transition, motorists and residents in this area need to be consulted and educated about their route options once this plan is in place.
When San Francisco partially demolished a freeway, the city created a "Central Freeway Alternatives Guide" to advertise alternate routes to motorists.[41] While this did not alleviate all of the congestion problems in the area, the number of motorists in this case is much greater than those using the viaducts at 80,000 vehicles.[42] This example demonstrates the need to use multiple avenues to make the public aware of the changes and alternatives available, whether online, a physical transportation route guide or otherwise.
The City has successfully notified the public about a new transportation plan before; the 2010 Olympics TravelSmart program is a prime example of this. Road capacity was reduced by 30-50% during the Games,[43] but this disruption was managed through educating the public about the road changes and encouraging them to use public transit. This program reduced peak single-occupant vehicle weekday trips to the Downtown Core by an average of 35% during the Games. [43] While the City does not have the capital or time to invest in a campaign as intricate as the TravelSmart program, nor increase transit capacity in the same way they did during the Olympics, they can use the lessons they learned about effectively communicating upcoming changes to the public, and apply them to the Eastern Core strategy.
Another stakeholder that should not be forgotten in consultation and education is the surrounding neighbourhoods like Strathcona. While the road demands will be reduced for Prior St. West of Main St., the City needs to look at the effects on Prior St. between Main St. and Clark Dr. Safety and livability in this area are the main concerns of the Strathcona Residents' Association, and the City should investigate what the ripple effects occur in traffic outside of the immediate area around the viaducts. By entering into dialogue with the Strathcona residents, and potentially finding compromises on speed limits and lane use (as the Association suggests in its proposal document)[44] that ensures their area is not inadvertently affected by the removal of the viaducts.
While many motorists are alarmed by the proposed removal of the viaducts, a study of San Francisco's demolished freeway found that ten years after the freeway's removal, there was no overall increase in traffic congestion. Most motorists found alternate routes, or shifted to a new mode of transportation or travel behaviour.[45] This promises that the long term benefits of a project like this may outweigh any short-term traffic congestion that is created.
3. Protect Adjacent Neighbourhoods from Upscaling and Gentrification
With the removal of the viaducts, the increase of greenspace and aesthetic improvements of the surrounding area comes the risk of upscaling and gentrification in the adjacent neighbourhoods.
One important aspect to consider if the viaduct project goes through is the effect on housing prices. Both San Francisco [45] and Seoul[46] saw an increase in housing prices near the greenways and boulevards that replaced old freeways, particularly those within 500m from the projects. This trend could dramatically impact areas like Strathcona and the Downtown Eastside by proximity, areas that already struggle with upscaling and gentrification.
If planning projects like this are geared towards Richard Florida's Creative Class, as Cevero suggests,[45] then the City of Vancouver will need to actively ensure that any future housing developments in the area remain affordable for current residents. When Milwaukee demolished their unfinished freeway, it became part of a city-wide rebranding project appealing to the Creative Class. This came at the expense of intensifying polarization in the adjacent neighbourhoods, with one area's property values increasing 54% between 1998 and 2002, and the displacement of thousands of manufacturing jobs.[47] While the Eastern Core does not support as many manufacturing jobs, the alarming increase in property value in other cities is enough to warrant attention from the City of Vancouver.
As an article in the Globe and Mail indicated, the council has a wide range of options with what to do with the land once the viaducts are demolished.[48] In order to prevent further gentrification and upscaling in the Eastern Core, the City needs to designate a high percentage of the space for affordable housing to ensure Vancouver does not contribute to the growing problem of polarization and gentrification. The percentage allocated for affordable housing also needs to be enforced strictly, rather than letting the developer decide how it will be allocated.
Final Thoughts
These changes to the Downtown Core will become examples of transportation practice and design for the Metro Vancouver area and other cities in North America. The plan to deconstruct the viaducts "reflect a reordering of community priorities."[45] With this project and the introduction of the Bike Share program, the city is prioritizing a more liveable city. The shift away from vehicle use in the Downtown Core cannot be done without adequate community education and incentives, to both accept the new routes to access the Downtown Core from the East via vehicle, and the new opportunities for getting from place to place in the Downtown Core by bike without having to own one.
Works Cited
↑ 1.0 1.1 1.2 1.3 1.4 1.5 1.6 City of Vancouver. (2012). Transportation 2040. In Talk Transportation With Us. Retrieved October 16, 2012, from: http://talkvancouver.com/transportation
↑ 2.0 2.1 2.2 2.3 2.4 2.5 Statistics Canada. (2010). Census Tract (CT) Profiles, 2006 Census. text/xml. Retrieved October, 18, 2012 from http://www12.statcan.ca/census-recensement/2006/dp-pd/prof/92-597/index.cfm?Lang=E
↑

Hayes, D. (2005). Historical Atlas of Vancouver and the Lower Fraser Valley. Vancouver: Douglas & McIntyre.

↑

Matthews, J.S. (2011). Early Vancouver (Vol. 1). Vancouver: City of Vancouver.

↑ Davis, C. (n.d.). The History of Greater Vancouver. In A Brief History of Metropolitan Vancouver. Retrieved October 18, 2012, from http://www.vancouverhistory.ca/story.html
↑

MacDonald, N. (1975, June). Vancouver. In National Museums of Canada (Ed.), Urban History Review/Revue d'Histoire Urbaine (pp.51-55).

↑ Villagomez, Erick.(2011, June 6). The Viaducts: Past, Present and Future – Part 1. Retrieved November 28, 2012 from http://spacingvancouver.ca/2011/06/16/the-viaducts-past-present-and-future-part-1/
↑ Villagomez, Erick.(2011, June 6). The Viaducts: Past, Present and Future – Part 1. Retrieved November 28, 2012 from http://spacingvancouver.ca/2011/06/16/the-viaducts-past-present-and-future-part-1/
↑ Yaletown Business Improvement Association. History. Retrieved November 29, 2012 from http://yaletowninfo.com/visitors/history/
↑ D'Auria, G. (2010, November 3). A Crown for King Campbell. The Tyee. Retrieved October 18, 2012, from http://thetyee.ca/Opinion/2010/11/03/KingCampbell/
↑ Transport Canada. (2012, July 10). Road Transportation. Retrieved October 19, 2012, from http://www.tc.gc.ca/eng/policy/anre-menu-3021.htm
↑ 12.0 12.1 12.2 City of Vancouver. (2012, April 24). Pedestrian Safety Study. text/xml. Retrieved October 18, 2012, from http://vancouver.ca/files/cov/pedestrian-safety-study-2012-final-report.pdf
↑ Dhaliwal, M. (2007). An examination of Downtown Vancouver streets: does pedestrian-oriented design actually foster increased pedestrian usage? (Doctoral Thesis). Retrieved October 18, 2012, from http://summit.sfu.ca/item/2669
↑ 14.0 14.1 14.2 Quay Communications Inc. (2008) Translink public bike system feasibility study. Retrieved October 18, 2012, from http://www.translink.ca/~/media/Documents/cycling/Public%20Bicycle%20System%20Investigation/Public%20Bicycle%20System%20Investigation%20Part%202%20-%20Local%20Context%20Analysis.ashx
↑ 15.0 15.1 15.2 City of Vancouver. (2012) Public bike share system. Retrieved October 18, 2012, from http://vancouver.ca/streets-transportation/public-bike-share-system.aspx Cite error: Invalid <ref> tag; name "2012a" defined multiple times with different content Cite error: Invalid <ref> tag; name "2012a" defined multiple times with different content
↑ 16.0 16.1 16.2 16.3 Cooper, A. (2009) The UBC public bicycle system feasibility study. Retrieved October 18, 2012, from http://transportation.ubc.ca/files/2010/10/PBS_Final.pdf
↑ 17.0 17.1 17.2 PBSC Urban Solutions. (2010) Case Studies: Montreal. Retrieved October 18, 2012, from http://www.bixisystem.com/what-we-achived/case-studies-info/?id=1
↑ City of Vancouver. (2012) Greenest City: 2020 Action Plan. Retrieved October 18, 2012, from http://vancouver.ca/files/cov/Greenest-city-action-plan.pdf
↑

Bunting, T., Filion, P., & Walker, R. (2011). Canadian Cities in Transition. Ch.11.

↑ Grubel, H. (2012, June 28) Beware hidden costs of bike-sharing programs. Retrieved October 18, 2012, from http://www.vancouversun.com/health/Beware+hidden+costs+bike+sharing+programs/6853071/story.html#ixzz29jvZ0VLK
↑ Alcoba, N. (2012, May 27) BIXI bike sharing program in a cycle of uncertainty. Retrieved October 18, 2012, from http://news.nationalpost.com/2012/05/27/bixi-bike-share/
↑ Sinoski, K. (2012, June 21) Vancouver's bike sharing program may take a hit on helmet laws. Retrieved November 28, 2012, from http://www.vancouversun.com/news/metro/Bike+sharing+program+Vancouver+take+helmet+laws/6821868/story.html
↑ 23.0 23.1 City of Vancouver. (2012, July 19). Prior/Venables FAQ. text/xml. Retrieved October 18, 2012, from http://www.geoffmeggs.ca/wp-content/uploads/2012/06/Prior-FAQ.pdf
↑ Halcrow Consulting Inc. (2011, September). Vancouver Georgia and Dusmuir Viaducts Study. www.vancouver.ca. Retrieved October 18, 2012, from http://vancouver.ca/docs/eastern-core/viaducts-study-summary.pdf
↑ 25.0 25.1 25.2 25.3 City of Vancouver. (2012, August 20). Viaducts and the Eastern Core strategy. text/xml. Retrieved September 23, 2012, from http://vancouver.ca/home-property-development/viaducts-and-the-eastern-core-strategy.aspx Cite error: Invalid <ref> tag; name "August 20" defined multiple times with different content
↑ 26.0 26.1 26.2 Lee, J. (2012, July 25). Vancouver unveils plan to replace viaducts with 'super road', more housing. www.vancouversun.com. Retrieved October 18, 2012, from http://www.vancouversun.com/news/Vancouver+unveils+plan+replace+viaducts+with+super+road+more+housing/6983485/story.html
↑ City of Vancouver. (2012, July 19). Prior/Venables FAQ. text/xml. Retrieved October 18, 2012, from http://www.geoffmeggs.ca/wp-content/uploads/2012/06/Prior-FAQ.pdf
↑ Soron, M. (2012, July 6). Strathcona residents now the toughest opposition to viaduct removal. OpenFile. Retrieved October 19, 2012, from http://www.openfile.ca/vancouver/story/strathcona-residents-now-toughest-opposition-viaduct-removal
↑ Strathcona Residents' Association. (2012). FAQ Reclaim Prior. Reconnect our Neighbourhood. Restore Strathcona. In Strathcona Residents' Association. Retrieved October 18, 2012, from http://strathcona-residents.org/viaducts/frequently-asked-questions.
↑ Shore, R. (2012, October 17). Vancouver's viaduct demolition plan threatens city's biggest community gardens. http://blogs.vancouversun.com. Retrieved October 18, 2012 from http://blogs.vancouversun.com/2012/10/17/vancouvers-viaduct-demolition-plan-threatens-citys-biggest-community-gardens/
↑ 31.0 31.1 31.2 Cervero, R. (2009). Transport Infrastructure and Global Competitiveness: Balancing Mobility and Livability. The ANNALS of the American Academy of Political and Social Science, 626(1), 210–225. doi:10.1177/0002716209344171 Cite error: Invalid <ref> tag; name "Cervero" defined multiple times with different content
↑

Pradelle, M. D. L., & Lallement, E. (2004). Paris Plage: "The City is ours." The ANNALS of the American Academy of Political and Social Science, 595(1), 134–145. doi:10.1177/0002716204267195. Quotation from p.125.

↑ 33.0 33.1 Chrisafis, A. (2012, August 2). Paris to return Seine to the people with car-free riverside plan. the Guardian. Retrieved October 18, 2012, from http://www.guardian.co.uk/world/2012/aug/02/paris-seine-riverside-expressway-pedestrian
↑ 34.0 34.1

Kang, C. D., & Cervero, R. (2009). From Elevated Freeway to Urban Greenway: Land Value Impacts of the CGC Project in Seoul, Korea. Urban Studies, 46(13), 2771–2794. doi:10.1177/0042098009345166. Quotation from p. 2772

↑ Lee, J. (2012, July 25). Vancouver unveils plan to replace viaducts with 'super road', more housing. www.vancouversun.com. Retrieved October 18, 2012, from http://www.vancouversun.com/news/Vancouver+unveils+plan+replace+viaducts+with+super+road+more+housing/6983485/story.html
↑ 36.0 36.1 36.2 36.3 36.4 Cycling in Cities Research Team. (2012). Cycling in Cities: Motivators and Deterrents. Retrieved November 28 2012 from http://cyclingincities.spph.ubc.ca/opinion-survey/
↑ City of Vancouver. (2012, May 17). Cycling Regulations. text/xml. Retrieved November 29, 2012, from http://vancouver.ca/streets-transportation/cycling-regulations.aspx
↑ Aynsley, M. (2012, June 14). Movement to have B.C. government repeal mandatory helmet law picks up. OpenFile. Retrieved November 29, 2012, from http://www.openfile.ca/vancouver/blog/2012/movement-have-bc-government-repeal-mandatory-helmet-law-picks
↑ . McCormack, E. et al. (Bike Share Studio, University of Washington).(2010). Seattle Bike Share Feasibility Study. Retrieved November 28 2012 from http://seattlebikeshare.org/Seattle_Bike-Share_files/SeattleBikeShareFullReport.pdf
↑ HUB. (2012). About Us. In HUB Your Cycling Connection. Retrieved November 29, 2012, from https://bikehub.ca/about-us
↑ Schwartz, S. (1996, August 19). Traffic Snarled as Dubcoe Closes For Central Freeway Demolition. The San Francisco Chronicle. Retrieved November 28, 2012, from http://www.lexisnexis.com.ezproxy.library.ubc.ca/lnacui2api/api/version1/getDocCui?lni=3S36-91B0-009C-90FR&csi=8172&hl=t&hv=t&hnsd=f&hns=t&hgn=t&oc=00240&perma=true
↑ Epstein, E. (1996, August 8). Big Stretch to be Razed - Brochures Give Advice. The San Francisco Chronicle. Retrieved November 28, 2012, from http://www.lexisnexis.com.ezproxy.library.ubc.ca/lnacui2api/api/version1/getDocCui?lni=3S36-9200-009C-919V&csi=8172&hl=t&hv=t&hnsd=f&hns=t&hgn=t&oc=00240&perma=true
↑ 43.0 43.1 Craig, M. (2011). TransLink and the 2010 Olympic Winter Games. Institute of Transportation Engineers. ITE Journal, 81(1), 56–60. Cite error: Invalid <ref> tag; name "translink" defined multiple times with different content
↑ Strathcona Residents' Association. (2012). A Proposal for Traffic Calming Prior Street. Retrieved November 28 2012 from http://strathcona-residents.org/files/2012-07-07-Prior_Proposal-FINAL.pdf
↑ 45.0 45.1 45.2 45.3 Cervero, R., Kang, J., & Shively, K. (2009). From elevated freeways to surface boulevards: neighborhood and housing price impacts in San Francisco. Journal of Urbanism: International Research on Placemaking and Urban Sustainability, 2(1), 31–50. doi:10.1080/17549170902833899. Quotation from pp. 32 Cite error: Invalid <ref> tag; name "san" defined multiple times with different content
↑

Kang, C. D., & Cervero, R. (2009). From Elevated Freeway to Urban Greenway: Land Value Impacts of the CGC Project in Seoul, Korea. Urban Studies, 46(13), 2771–2794. doi:10.1177/0042098009345166. Quotation from p. 2772

↑

Zimmerman, J. (2008). From brew town to cool town: Neoliberalism and the creative city development strategy in Milwaukee. Cities, 25(4), 230–242. doi:10.1016/j.cities.2008.04.006

↑

Bula, F. (2011, November 28). Plan looks at transforming viaduct lands. The Globe and Mail, p. S.1. Toronto, Ont., Canada.